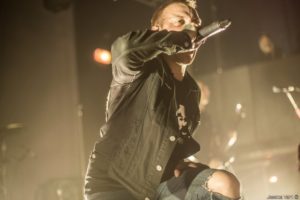 British Metalcore giants Architects hit Fremantle last night on the tale end of a triumphant Australian tour including appearances at Groovin' The Moo Festival. A headlining experience at a club show is always going to be different though, here is what went down.
First to take to a fast filling club was hometown death metal/ dejent brutes Iconoclast with their own unique brand of down tuned aggression. They kicked off proceedings in fine form, taking tracks from last years epic album "HalluciNation" and the 2012 EP "Autonomist" with crushing guitar riffs, bass lines that could rumble for six blocks. These guys dfinitely brought their total "A" game tonight.
Next up was Melbourne Nu metal band  Ocean Grove fusing elements of blistering riffs with hip hop leanings with lead vocalist Luke Holmes taking complete control from the get go. This was my second time seeing the band and once again I could see why they are one of the emerging bands in today's Australian heavy scene, on my advice go and see this band live as you wont be disappointed!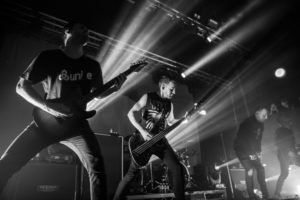 Now finally the main event, Architects take to the stage to a packed house and it must be mentioned that in all my years as a punter and fan of the heavy scene I've never seen such an energetic, excited crowd. From my vantage point on the upper levels for as far as the eye could see people were moving, stage diving and singing at the top of their collective lungs whch was a real hive of activity. Now tonight's show was always going to be an emotional gathering with the tragic passing of guitarist Tom Searle last year, one of the master mind's behind a lot of the tracks we are hearing tonight, kicking off with a rapturous rendition of "Nihilist" then cracking straight into "Deathwish" and "These colours Don't Run". What I thought was going to be a rather sad occasion turned out to be one of the loudest most vibrant celebrations of music and life that I've ever had the privilege of witnessing.
Other stand out tracks for me included "Colony Colapse" "Phantom Fear" and "Downfall", these guys without question gave 110 percent and it paid off in breathtaking style with the audience hanging off every word of front man Sam Carter in a triumphant tribute to the aforementioned Tom Searle. The band closed the show with a stirring dedication with "Gone With The Wind' and all in all a fantastic night was had by everyone here so I'm positive this will remain in the memory banks of fans across Perth tonight .
PHOTO GALLERY
Photos by Jessica Vaini at JV Photo Film