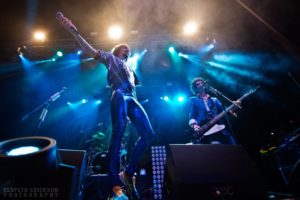 The Darkness are getting to be semi-regular visitors to Australia these days – just 18 months after their last visit in support of their latest album 'Last of Our Kind' they're back again before the new album has even been mastered to play not just an impressive series of headline dates (many of which have sold out) but also jump on to the main stage at the Groovin' the Moo Festival.
First things first though, tonight's support band Maverick are exactly the kind of band you need to warm you up for the main event. With a sound based solidly in classic 70's rock they have a southern rock leaning that is remarkable for a band as far removed from America's south as you can get. They also have the songs to back it up, great stage presence and  not inconsiderable chops.  If you get a chance to check these guys out – do it now because they could well be gracing far bigger stages very soon.
A Darkness show is always an event, and tonight's performance is one that pushes their impeccably high standards over the edge. It seems like the band is really enjoying letting off a little steam as they crank it up, Justin swankily dressed in a blue satin jumpsuit, and launch into first album opener 'Black Shuck' and they don't really stop till the final power chord lands. Their last headline show and penultimate Australian date for the year is stellar and really should be the subject of some sort of 'golden engraving' we can send into space.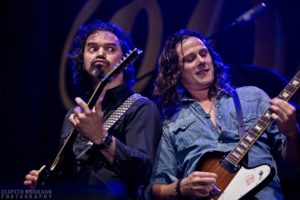 Tonight is also a night to cherish for old school fans with a slew of material from that first album. We should have known really with Dan hinting in his interview with our editor that the forthcoming and 'as yet unnamed' album was their finest since that debut.
Even better than those solid gold classics though is that fact that we are treated to a showcase of new material and to these ears being amongst the first in the world to hear songs like 'All the Pretty Girls'; 'Solid Gold' (the most immediate hit of the night and a future classic); 'Southern Trains' and the wonderful encore 'Japanese Prisoner of Love'  makes the night extra special.
Elsewhere we tick all the right boxes – Justin Hawkins does do the headstand, Dan does look cool, Frankie saunters as only Frankie can and Rufus does look like he might break into 'We Will Rock You' at any point, even jumping over his drums at one stage. The Darkness of course are known for their banter and Justin is on fine form tonight "We are the fucking Darkness from the United Kingdom" he announces early on and engages the crowd all night whether in sing-along or general Q and A – "I remember this place we played here back in 2004, but let's not get hung up on who played what and when…". The crowd of course loves it.
As a band the Darkness are the real deal and far from the novelty act their transatlantic cousins Steel Panther are, indeed they are seriously good musicians who just happen to like a laugh, and that is evident in every song. At times Justin's comical asides about subjects such as 'bouncing' do veer into the surreal, and his sporting of a black brassiere as headgear , then later a sort of over-the-shoulder accessory, after he's proffered it from the crowd, do have a rather comical quality, especially as he later asks its size to ensure it goes back to the correct member of the audience.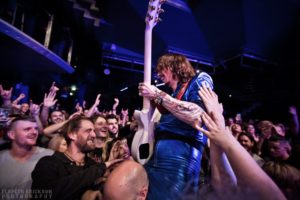 Hitting the stage in a blue haze there's plenty of old school rockers in the crowd, but that's more than balanced by the kids, indeed its hard to think of a more demographically spread rock audience, old, young, male, female, and every shade in between, there are even Kiwis rubbing shoulders with Scotsmen in a show of rock solidarity.
As far as set lists go it's pretty near perfect – 10 tracks from the 11 on Permission to Land (with only closer 'Holding My Own' missing out); 4 tracks from the next eagerly anticipated album (due September 2017), 3 from current album 'Last of our kind' and a cursory nod to 'One Way Ticket' and 'Hot Cakes' it couldn't be better. One relatively new convert indeed is almost in tears happy beyond smudged eye-liner that she's got to hear that first release.
If you want showmanship though you of course get that in spades at a Darkness show –  from Justin's Freddy-isms and one-liners to his conducting of the traditional sing-along to 'Love On The Rocks With No Ice'. Add to that a new intro to 'One Way Ticket' and a new slow intro to the crowning glory that is 'I Believe In A Thing Called Love' not to mention the guitar solo played on a roadie's shoulders whilst traversing the crowd, and you have a night to remember.
The Darkness gave Perth a cracking gig tonight, and if the new songs were but a wee taste of things to come 2017 could well be the year they rise again bigger and bolder than ever.
Gig of the year? Undoubtedly!
PHOTO GALLERY
Photos by Elspeth Erickson Photography