A roundup of the latest news from Nuclear Blast including updates on Sepultura, Fallujah, Memoriam, Pristine, Accept, In Flames and Possessed.
After the release of their highly acclaimed album »Machine Messiah« and with an extremely successful tour with KREATOR under their belts, Brazilian thrash metal legends SEPULTURA have now confirmed a 2017 summer tour across Europe! The schedule includes some selected club shows alongside some of Europe's most major Metal Festivals.
Today, the band released the official tour trailer on YouTube. Check it out:

Don't miss to see them live! For further info go to: http://www.sepultura.com.br
—————————————-
Since the release of their latest album »Dreamless« (April 29th, 2016 through Nuclear Blast), progressive death metal masters FALLUJAH are constantly touring around the globe. After another extensive and successful US tour with their label mates CARNIFEX, DESPISED ICON, and RINGS OF SATURN as well as LORNA SHORE and SHE MUST BURN, the band will come back across the pond for a string of festival gigs and club shows with HAVOK, GORGUTS, REVOCATION, and VENOM PRISON. All dates can be found at www.nuclearblast.de/fallujah
—————————————-
Old school death metallers MEMORIAM unleashed their debut album, »For The Fallen«, on March 24th, 2017 through Nuclear Blast Records. The album entered the official album charts in Germany at #16.
Today, the band announced the release of a brand new 7″ vinyl single, to complete the "Hellfire Trilogy". The single is called »The Hellfire Demos III«, it includes one Song "The Captive" and will be released on July 7th.
The band states:
"This track was never meant for release, it was recorded early on at Hellfire studios purely for ourselves.
Sacrilege, and particularly Tam their vocalist was the reason Karl wanted to be a vocalist himself. If Sacrilege had not existed there would also be no Bolt Thrower as they were the reason Baz BT
formed Bolt Thrower, to create a band in the same vein. Karl wanted to do some recording with
Tam. She lives close to the Hellfire studio so it was just a case of Frank asking his band mate if she would sing on a demo with us. She said yes, we recorded it alongside the other demos then that was it, another tick on Karl's bucket list! We are getting pretty far into the creation of album #2 as we speak. We went through some of our ideas we have stored and came across this demo track, played it again and thought this was just too good to not release! So here we have the final part of the Hellfire demos. We make no apologies for releasing it on its own on a limited vinyl single. It deserves its own place. It closes the door now on the first year of our journey that we have shared with you all the way from the demos to "For The Fallen". Enjoy!"
The single will be available on yellow, clear/blue splatter, pink white and black vinyl.
You can pre-order the EP here
—————————————-
Norwegian rock band PRISTINE, featuring lead singer and primus motor Heidi Solheim, have announced the tour dates for the upcoming months.
Commented Solheim: "We are really looking forward to get on the road again this autmn! To play concerts and meet the fans is our absolute favorite part of being musicians. The fans are very important to us and the whole reason why we can continue to release new music and do live shows, and this is our oportunity to meet everyone!" 
More info at www.pristine.no
—————————————-
Heavy metal pioneers ACCEPT are back in the game with a new studio album! The record entitled »The Rise Of Chaos«, will be unleashed on August 4th, 2017. The band's 4th studio release through Nuclear Blast will continue the tradition of its three predecessors – »Blood Of The Nations«, »Stalingrad«, and »Blind Rage« – with grandeur and precision.
Today, the band has unveiled the cover artwork of the new record, which was created by the Hungarian artist Gyula Havancsák.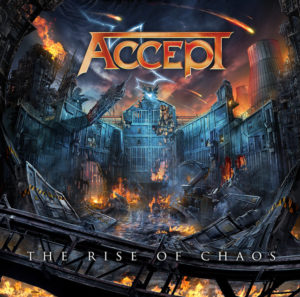 "THE RISE OF CHAOS is something I have been thinking about often. Wherever we go – there is some hidden as well as some visible destruction and it kind of changes the world we know. What was there today – can be gone tomorrow and it's somehow irritating, because it happens on so many levels and no one knows what comes next. The cover is our last stage set – but now clearly "destroyed" – like… after a catastrophe", explains Wolf Hoffmann.
—————————————-
At the beginning of June, Sweden's heavy music masters IN FLAMES will once again tour Europe, during which they will be playing some of the biggest festivals that the continent has to offer. To celebrate their return to Rock Am Ring, Hellfest, Download and many others, the band has unveiled its new music video for 'Here Until Forever', taken from their latest full-length release »Battles«.
This stunning animated clip, directed by award-winning Mexican filmmaker Luis Téllez (Jacinta, La Noria and Fusilaron a la Virgen), is a masterclass in stop motion animation, so make sure to watch it here:
Singer Anders Fridén states:
"Ever since hearing Scorpions 'Still loving you' for the first time, I wanted to write the ultimate love song. It's difficult to top the mighty Germans, but this is my attempt."
—————————————-
Nuclear Blast is proud to finally announce the worldwide signing and return of POSSESSED! Few bands have done more to push the boundaries of extreme metal than the legendary POSSESSED. Even fewer can create a unique style, which continues to set them apart from all others by being the very first in a genre they laid the foundation for. POSSESSED are by definition, the creators of death metal. Ever since they stormed onto the San Francisco metal scene in the early 1980's, POSSESSED has been redefining and breaking the rules for metal. Nuclear Blast is very excited to be a part of that continued legacy.
Comments vocalist and founding member Jeff Becerra:
"POSSESSED are pleased and honored to announce our joining the Nuclear Blast family. Currently, we are hard at work writing new material for our upcoming first full-length release on Nuclear Blast. I want to give special thanks to everybody at Nuclear Blast, and to all of our supporters. This has been a long time coming and this is a very exciting time for us."
Watch a short teaser video announcing the signing that includes a short snippet of demo of a new song here: https://www.youtube.com/watch?v=4vNa2GhyB-I. Fans can expect POSSESSED's first a full-length release in 31 years, sometime in 2018.