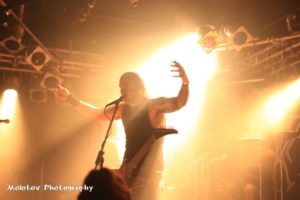 Melbourne thrashers Desecrator have been tearing across Australia in support of their first ever full-length album "To The Gallows", an album that was long overdue but ultimately well worth the wait. With support from some of Perth's next top level metal acts, the show was always going to be a winner from the start.
Opening the show were Remission who take a groove metal stance with influences from new wave of American  bands such as Trivim and Devildriver to deliver a frantic shot of riff driven metal. On the complete flipside to that was dark brooders Deadspace who had a much more gothic, black metal inspired sound that occasionally would give you a catchy beat, seemingly blending the 2 styles of horror rock and extreme atmospheric metal. Whatever you want to call it, they nailed their performance tonight.
Perth heroes and rising stars Tempest Rising once again put on another rousing performance with their heavy rock/thrash and modern metal style. Coming off a whirlwind trip across Australia recently that ended at Blacken Festival in Alice Springs alongside Deadspace as well as tonight's headliners Desecrator, the band sounded on fire as the energy from the tour filtered through to tonight's show.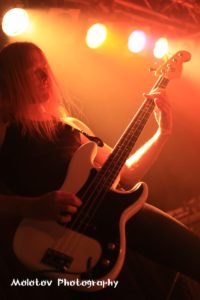 Melbourne thrashers Desecrator rolled up next, frontman Riley Strong rallying the troops before stagetime at the beer garden behind the stage to remind punters why they were here in the first place – to witness a pure thrash metal show, and that we most definitely got!
Supporting their recently released debut album "To The Gallows", the Victorians filled the set with a healthy mix of the new stuff including the epic title track and the thrash monster "Hellhound" as well as regular cuts from their old sets. The band sounded tight as hell, stopping and starting in perfect unison as they cut their way through a blistering set filled with massive riffs at scorching speeds. It was relentless, barely taking a breather as the small but energetic crowd moshed along to the frenzied attack.
It's great to see Desecrator back in Perth after years of touring this side of the country, the thrash metal kings of Australia showed why Melbourne is the centre of thrash and were not only super appreciative to be playing in the west but gave the fans a top show to be remembered for some time.
PHOTO GALLERY
Photos by Tammie Molotov – Molotov Enterprises & Photography