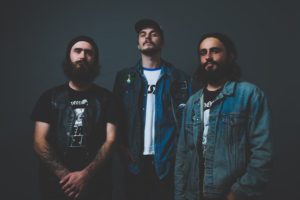 Melbourne's Grim Rhythm are dedicated to ze rock, and souped up to serve their debut LP to lovers of riffage across the nation. 'What Do You Know About Rock'n'Roll' is out June 9 via the band's own label, Suspect Records. 
For six years, Grim Rhythm was a strictly live band only. Eschewing the conventions of habitual "come to our pub gig" social media posts and pretty much doing diddly-squat by way of other kinds of promotion, the trio have absolutely honed their chops to perfection in dank dive bars. Playing for the sheer reckless joy of it, word of their ballsy instrumental stoner rock got around to all the right places. This word has see them aurally punish rock crowds constantly across Australia, even touring the US in 2016. Catch 'em as they take their loud new sounds on the road through June, rock lovers.
Less talk, more rock, you say? With pleasure. Wrap your ears around the mighty, muscular sounds of solo-slathered single 'The Suspect'…
To record this stellar debut LP, Grim Rhythm travelled across the canola fields to quiet Adelaide to mine the tape machine and analog recording capabilities of John McNichol (Hydromedusa, Horsehunter) at Twin Earth Studios. Smashed out live across only two days in the studio, the results are a ruthless and exciting concoction of killer sounds. This is no surprise; the LP was mixed by Sam Johnson at Hole & Corners and mastered by local legend Mikey Young.
Grim Rhythm are excellent purveyors of straight up, riff-heavy balls-out instrumental rock. If you have any idea what is good for you, you'll turn it up to 11. Play it at a house party. Watch as folks become possessed by the power of sexy-as-hell riffy hard rock. Act wild. Or whatever you feel like doing when you're sonically assaulted by a barrage of electric awesomeness. Grim Rhythm have that shit on lock.
GRIM RHYTHM ALBUM TOUR
Friday June 9 – The Eastern, Ballarat
Saturday June 17 – Crowbar, Brisbane
Sunday June 18 – Frankies Pizza, Sydney
Friday June 23 – Old Bar, Melbourne
Saturday June 24 – The Barwon Club, Geelong