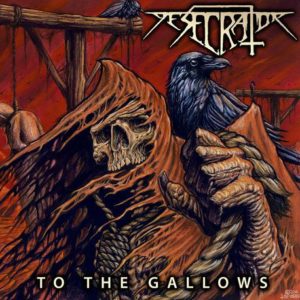 Melbourne thrashers Desecrator have been leading the pack in thrash metal in Australia for a number of years now and the most surprising thing to not come out of that is an actual full length studio album! But that's about to change with their debut album "To The Gallows", an album that is exactly what you expect from the Victorian metallers and then some.
Desecrator waste no time on this album as they keep at it relentlessly aside from the odd moment of some acoustic passages and melodic moments like in "As I Die" which is essentially the only time you get to rest from the sonic blasting that the band put forth. The title track leads the charge and sets the tone for the album here on out, it's old school thrash metal at it's best and anyone who has seen Desecrator live (any self respecting metal fan will have by now) will see that the band capture their live sound perfectly with this album.
Keeping the energy and ferciousness as well as the loose vibe that Desecrator are known for at their live shows is somewhat important here for their first album, fans will recognise their distinctive sound instantly in a genre that can sometimes be overwashed with cliches and redundancy that sways people into relegatting thrash as past it's prime. Sure it's difficult to move past the originators of the genre but the same can be said about any style of music really. With "To The Gallows" there's an energy and freshness to the sound that makes you want to be a thrash fan again. Songs like "Red Steel Nation" with that absolute killer opening riff, to tracks like "Serpents Return" and the Slayeresque "Down To Hell" is well and truly headbanger worthy and can be put up there with some of today's best in the world.
If you have seen Desecrator over the years or even picked up one of their live releases or EP, then "To The Gallows" will certainly not disappoint in any shape or form. It's thrash metal done just the right way in the fashion that Desecrator are known for and for our money, will be one of the top metal albums for 2017.
TRACKLIST
To The Gallows
Desert For Days
Red Steel Nation
As I Die
Serpents Return
Hellhound
Thrash Is A Verb
Down To Hell
Brainscanz
Balancing On A Blade (bonus track)