The Swedish metal titans known as Meshuggah rolled into Fremantle on Friday night on the last show of the Australian tour in support of their latest album "The Violent Sleep Of Reason", the explosive and demented sounds of their string bending style of music was enough to severely bruise the necks of many fans on the night.
Opening up the show was local melodic metalcore act Make Way For Man who just recently opened for prog metallers Periphery. Meshuggah is a much heavier act to open for and given the melodic style that the Perth band has, it was a tough job to take on. But it prevailed well for the band in the end as they helped warm the crowd up for the oncoming onslaught ahead.
The creepiness of "The Violent Sleep Of Nature" came through on the night as Meshuggah launched into a couple of the new tracks from the album. The stage, set with the album cover and a brilliant array of show lights that worked in tangent with the music on hand really helped keep the mood within that dark tone that Meshuggah are knon for. The new songs, "Clockworks" and "Born In Dissonance" sounded fantastic and while the band have evolved a lot since their early days, these songs matched very well with the older stuff as the band retain that signature sound.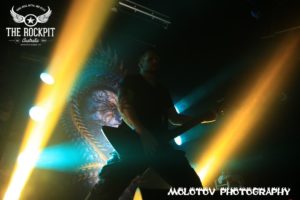 A mixed bag of songs from their back catalogue including "Chaosphere", "Nothing" and "Koloss" amongt others helped keep the fans at bay as the band pummeled the crowd to oblivion, barely saying a word to the crowd aside from a 'Hi and thanks' and really just focusing on putting on the best show possible. That they certainly did as the performance was pretty flawless and by the time the classic "Bleed" came on near the end of the set it was pretty clear that Meshuggah may possibly not be human, the endlessness of the repeated chugging riffs and Thomas Haake's crazy rhythms on drums was both hypnotic and robotic in it's nature.
Meshuggah ended the show with "Future Breed Machine", one of the oldest songs on the night and shows how far the band have come from their almost thrash metal days. Easily one of the highlights of the live tours so far this year and probably the best we have seen Meshuggah over the years, the consistency of this band is truly undisputed.
PHOTO GALLERY
Photos by Tammie Molotov – Molotov Enterprises and Photography