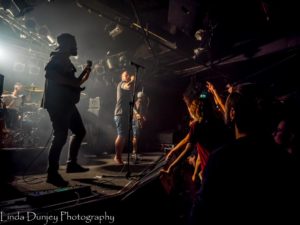 Canadian prog metallers Protest The Hero have been slamming across Australia this past week despite losing guitarist Tim Millar during the tour who had to leave due to a personal emergency. But as they say, the show must go and that they did, ending the tour in Perth on a quiet Wednesday night which may have been a little anti-climactic for them but the Perth fans in attendance certainly embraced the band on the night.
Opening the show were local hardcore act Conform and burgeoning 6 piece Make Way For Man who have been killing the pig as of late in international support slots. Two very different bands compared to the more melodic, progressive Protest The Hero but the crowd loved every minute of it as they set the tone for the headliners ready to bring it to Perth.

As mentioned before, guitarist Tim Millar had to step out on the last few shows to attend to a personal emergency at home and while it somewhat affected the bands sound where things were a little thinner than usual, the Canadian rockers stepped up to the challenge and put on a stunningly tight show that was immaculate in delivery and spot on in sound.
Frontman Rody Walker sang his heart out while also being quite jovial in stage banter, commenting on the in-house video screens at the bar which fittingly showed the band themselves in promo footage, while Rody also briefly mentioning Christmas and the non-existence of Jesus Christ before launching into a track about suicide. It was that kind of interesting and humerous way of coming to the end of the tour that made for an entertaining watch as we saw the band bring the house to it's knees with a stellar show.
Coming off the back of their latest EP release "Pacific Myth" which was released in a fairly unique way just over a year ago, the band played a mix bag of new material as well as a few from the back catalogue but ultimately it seemed almost too short of a set despite starting a little earlier than scheduled. That of course meant the crowd screamed for more and a quick encore gave the Perth fans one last taste of Protest The Hero for the time being.
Sadly over before we knew it, it was a tight set that catered to all who know and love the band but even if it was not a mega packed crowd, we still hope they come back and do it all over again. And hopefully with Tim this time which we of course hope all is well on his end of things!
PHOTO GALLERY
Photos by Linda Dunjey Photography