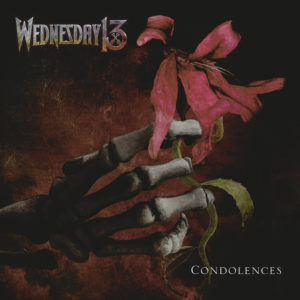 What's so great about a Wednesday 13 album is that it always feels like a horror movie in itself with all the interludes and creepy noises and general all round fun horror vibe. Tongue in cheek references to all things ghoulish is the theme Wednesday 13 loves to splatter on every track and the new album "Condolences" continues that tradition.
With the last album, 2015's concept based "Monsters Of The Universe: Come Out And Plague", Wednesday 13 really showed a different side of the band that pushed the music in different directions while bringing in heavier elements than before. I did however feel that the album lacked a certain something that made the previous albums more enjoyable  to get into and whether that came down to the conceptual feel of the album or a slightly more raw sound in production is debatable but with this new album "Condolences", it sounds like they have brought back that signature sound that we know and love them for.
The songs have more muscle and groove that definitely harks back to some of the earlier material like "Transylvania 90210" and "Fang Bang" but with the muscle of "Calling All Corpses". Immediately you hear it in songs like "What The Night Brings" and the high tempo rocker "Cadaverous" where chugging riffs and groove laden rhythms drive the hellish sounds that are mixed in seamlessly. "Blood Sick" which is a little reminiscent of "House By The Cemetary" and the tempo changing foot stomper "You Breathe, I Kill" are further highlights which are damn fun to listen to, especially when you are hitting the road and cranking your sterio at high speed (legally of course!).
The album slightly tapers off towards the end with some doom and gloom, gothic and slower tempo tracks in the title track and "Death Infinity" but not before a few gems that preceed it. "Cruel To You" has a cool Motley Crue vibe in it's melodic rock style, "Lonesome Road To Hell" is a punky Misfits inspired tune and "Prey For Me" is just a hell fun song to kick back to that again oozes that groove factor and makes use of little guitar riffage and double kicks interspersed in the verses.
"Condolences" is everything you want on a Wednesday 13 album. The frontman himself sounding as gritty and on point as ever and with a stellar production value that steps it up a few notches over the last album, there's no doubt that this album is as hooky and dark as anything they have done before.
TRACKLIST
Last Rites
What The Night Brings
Cadaverous
Blood Sick
Good Riddance
You Breathe, I Kill
Omen Amen
Cruel To You
Eulogy XIII
Prey For Me
Lonesome Road To Hell
Condolences
Death Infinity