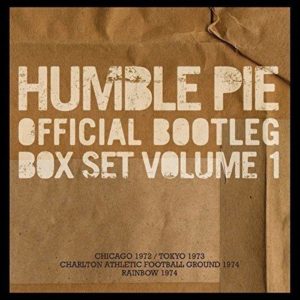 In these post-bootleg days when the world seems to want even official material 'free' and music has been relegated to a rather toxic, highly polluted stream that suits no-one but the streaming companies and large labels  its heartening to know that bands like Humble Pie are still 'collected' and revered. The problem is of course for old school collectors that most of this 'live' material has been bootlegged for years, was recorded originally unofficially and surreptitiously on often shoddy equipment and as a result it's resurrection might not find it as vital as intended.
This first volume of 'Official bootlegs' doesn't start at the beginning of Pie's career in 1969, but rather jumps right into the Frampton-less years at 1972 and gives us four shows of varying lengths and varying sonic quality – one from Chicago in 1972, one from Tokyo in 1973 and two from  1974- both on home turf – at Charlton Athletic's Football Ground and The Rainbow in Finsbury Park.
If I'm being completely honest the sound is pretty variable – the first set from Chicago blows in and out and the drums particularly suffer. That aside it's a great set by a band brimming with confidence and Marriott excellent – tackling a combination of originals and R'n'B and Blues standards plus The Pie's trademark Rock and Roll cover – in this case Eddie Cochran's 'C'mon Everybody'. Like Ashford and Simpson's 'I Don't Need No Doctor' Marriott always had the knack of re-modelling originals, adding to them and making them his own. Here it's the stripping of The Stones' 'Honky Tonk Women' to its bluesy heart that really shows you what a gifted composer he was.
The second show from Japan (sadly split between discs) a year later includes the backing singers The Blackberries (comprised of Venetta Fields, Clydie King and Billie Barnum), and it's their soulful backing vocals that add a whole new dimension to the sound. If anything this set leans even more on R'n'B than the year before with a great extended version of the standard 'Roadrunner' and great covers of Ray Charles 'Hallelujah! (I Love Her So)' and The Staples Singers 'Oh La-De-Da'. Even though the audio is muffled in places its a better overall recording than the opening set.
Another nice thing about the release is the booklet that accompanies the recordings and sets the shows in context: the first with support from Slade, the next – the band's fabled performance with Bad Company, The Who and Lou Reed at Charlton's Valley Ground.
It's this Stadium set that perhaps sounds best of all and it begins with a crunching rendition of 'Whatcha Gonna Do About It' before showcasing the title track from the new album 'Thunderbox' and adding rousing renditions of '30 Days In The Hole' and Betty Wright's 'Let Me Be Your Love maker' that wouldn't get set in vinyl till 1975's 'Street Rats' – it's Marriott at his most Hendrix-like and the perfect transformational cover. This set also sees Marriott taking to the crowd rather than the between song 'sing-troducing' he was known for.
Tacked on the end of the third disc are four tracks recorded for Don Kirschner's 'Midnight Special' TV show from the 1974 set at The Rainbow (London not L.A.), sadly the show is incomplete though presumably recorded professionally in its entirety back in the day. The sound is great except for the amplified 'crowd noise' at the start and end of each song and no attempt has been made to normalise it, which is a shame.
Humble Pie were one of the best Live bands ever to grace the stage and this set sees them during the peak of their powers> Whilst the sound quality varies, its still decent enough for a bootleg set. A great collection for fans and those too young to have seen the great man in any of his incarnations.