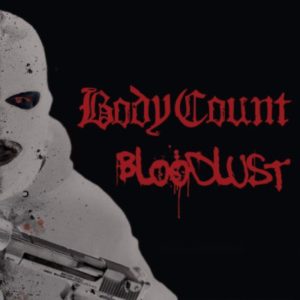 BODYCOUNT ARE BACK! this is my open declaration to the world ICE T and his crew really need no introduction here inspiring infinite  numbers of bands and people  over the years and the first thing you will notice when you put this album on is how much spite and vitriolic venom that will hit you right in the face.
Opener "Civil War" with a guest appearance by none other Dave Mustaine, is a call to arms with lyrical content along the lines of the decline of American society in general and where we go from here?
"The Ski Mask Way" is fast and violent in every way possible, it has an almost punk/DIY vibe about it. Of note here also are some of the other guest appearances on this namely in the form of  Max Cavalera on "All Love Is Lost" with his trade mark snarling vocals and  Randy Blythe with the track
"Walk With Me" both stand out editions to an already smoking hot release. Oh and last but by no means  least a savage rendition of Slayer's "Raining Blood".
Now down to brass tacks, this album in a short period of time has garnered a lot of press and for good reason. So if by now you've decided to go and grab a copy you wont be disappointed, it's slowly already creeping into my top 10 for 2017. A large call I know but I defy you to prove me wrong!
TRACKLIST
Civil War (ft. Dave Mustaine)
The Ski Mask Way
This Is Why We Ride
All Love Is Lost (ft. Max Cavalera)
Raining In Blood / Postmortem
God, Please Believe Me
Walk With Me… (ft. Randy Blythe)
Here I Go Again
No Lives Matter
Bloodlust
Black Hoodie