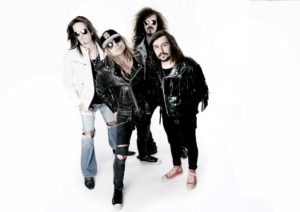 On Saturday April 15th, after an almost 5 year hiatus, Adelaide's own evening dedicated to glam, trash and rock n roll returns. "The Sleaze Ball 2017" features Pete London and Eric Young from Crashdïet in special acoustic performance, and recently joining The Sleaze Ball is South African sleaze rocker Don Cobra. Don is the front man for the band LA Cobra, and will be making his debut to Australian audiences in his exclusive Sleaze Ball 2017 performance.
Check out the interview below with Don and with 3rd album Shotgun Slinger coming out this year, mixed by Martin Sweet (Crashdïet, Sister, Sweet Creature), this is not the first time you'll be hearing the L.A Cobra name this year!  Not to mention also popping up playing guitar with fellow South African Duncan Faure (formerly of The Bay City Rollers and Rabbit – South Africa's alltime biggest pop band).
Scott: Hey Don Cobra, thanks for taking the time to do this interview!  First things first, Don Cobra / L.A Cobra may not be familiar to a bunch of The Rockpit readers, so let's start with the basics first, how would you describe the music of Don Cobra?
Don: Scott my brother, the pleasure is all mine and thank you for spreading the word of the Cobra rocking Aus. J  Well my music is basically just acoustic and vocals very raw…to be honest I'm not the best acoustic player…haha but I make it work, as I have no band to back me up. I'm doing some L.A. Cobra songs transposed to some acoustic vibes and two/three original Don Cobra songs and some classic sleaze rock covers in my own style.  I did the same in 2012 opening for Reckless Love in Switzerland (Uster) and the crowd seemed to love the intimacy and rawness, where it's back to basics and no distortion to hide behind if you know what I mean.  It's still rock n roll. It's been a dream to record my sleazy own solo acoustic album in future but the time is the problem [laughs].
As for L.A Cobra, well straight from the L.A. COBRA Bio: "Formed in November 2005, L.A. Cobra is the Only Sleaze/Glam/Hair Metal band On the African Continent. They are the "Sleaze Rocking Hair Metal Stars" from Pretoria – flying the 80's Glam Rock Flag from the handlebars of their Harleys whilst making a name for themselves internationally and locally. Like the well-known song Of Queen, "Tie your mother down, lock your daddy out of doors", L.A. Cobra has been let loose to cause a rebellion amongst the youth with their revival of the 80's glam era. Largely influenced by 80's rock bands like Motley Crue, Poison, Guns & Roses, Kiss, WASP and Skid Row, L.A. COBRA is all about girls, Harleys, big hair and a good time, bringing back those memorable guitar solo's and "balls to the wall" hard rock shows we're all starved for with a modern twist from their songwriting as we know them, these guys are the real deal, and live Rock and Roll!"
Scott: In a few weeks you're playing an acoustic set here in Australia at The Sleaze Ball. How did that come about and what are you looking forward to most about your Aussie visit?
Don: Long story short [laughs]. I've known Lindsay for about 9 years and for some reason when I was younger and naïve I thought he was the vocalist of Vengeance..haha. We were in contact a few times. Then I dated someone who thought Lindsay was a girl and removed him from my Facebook, he must have thought I'm fucking rude, once again sorry Lindsay.  Last year just before the Rest in Sleaze fest in Stockholm we reconnected, I was staying with Peter for the week and we actually met for the first time in person, one thing lead to another we stayed in contact and Lindsay invited me for his and Sarah's birthday bash and obviously "The Sleaze Ball 2017" and making this dream a reality. I think they gave me a bigger present that I could EVER give them.
Scott: At The Sleaze Ball you're sharing a stage with Peter and Eric from Crashdïet.  How much of an influence has Crashdïet  been on your music over the years?  What's your favourite Crashdiet album if you had to name one?
Don: Crashdïet has been a major influence later in my/our career. When L.A. Cobra started out in 2005 we were and still am on the otherside of the world and we loved Motley, Guns, W.A.S.P, Skid Row.  Because we're cut off from the rest of the world and I only had proper internet in 2008, I missed the whole Dave Lepard, Rest in Sleaze era.  It was through a bandmate that discovered Crashdïet in the Unattractive Revolution era.  Funnily enough (I'm not gonna mention any names) but the 'band member" was actually scared they'd poach me for some reason and only introduced us(me) as I mentioned when Unattractive Revolution was already released…haha! God we were childish back then!  The overall sound of the Unattractive Revolution album was insane it was way ahead of any other music that I heard at the time. When Generation Wild came out I knew why these guys were ahead of any other sleaze band, its timeless and it's the whole package and it's an honour opening for them.
I'm proud to say Peter and Eric are like brothers, Peter looked after me very well after me when I was there and now I have the opportunity to share a stage with him and Eric.  I'm more than grateful and funny thing Eric is also from Africa and when I met him we had a cool "African" connection and hit it off immediately, it was so natural felt like we knew each other for years.
Sorry to disappoint you Scott but unfortunately it's one of those situations where all of their albums are so good and I honestly can't choose a favourite they are all amazing in their own right.  I must say if it wasn't for Rest in Sleaze we wouldn't have this interview now \m/!
Scott: You hail from Pretoria, South Africa, personally speaking I'd have to go back to Just Jinger to name check a South African rock band!  What's the rock scene like in South Africa, let alone the sleaze rock scene?
Don: Funny you mention Just Jinger they were quite big in the 90's very cool band and opened a lot of doors for South African Rock Bands, but the South African Music scene is very diverse nowadays.  We have a few international artists that made it huge like ZP Theart (Skid Row/Dragonforce), Seether, Duncan Faure (The Bay City Rollers, Rabbitt), Trevor Rabin (Rabbitt, Yes), I'm actually touring with Duncan as we speak. Die Antwoord…we have from Indie Pop bands to Death Metal Bands so it's quite diverse.
We're the only Sleaze Rock band on this continent, I'd love the sleaze scene to be bigger but we have all the Motley, Guns & Roses, Poison and W.A.S.P fans attending our shows as we are the only band in Africa playing the genre that made metal popular.  It's been quite good to us and also one of the only "English" rock bands that have had our music videos broadcast on national TV and we also did an international TV commercial that was broadcast in the UK a few years ago. The scene also has "Afrikaans" Pop and Rock bands. "Afrikaans" is one of the 11 languages we speak here, it's very similar to Dutch that's also quite huge.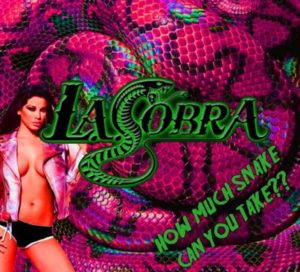 Scott: It's been a while since you released the How Much Snake Can You Take album, but that's about to change with your soon to released 3rd album Shotgun Slinger. Tell us all we need to know, when is it out, what can we expect musically.
Don: Well I'm very proud to announce that Martin Sweet, of Crashdiet, Sister and Sweet Creature is mixing, mastering and producing our 3rd album Shotgun Slinger.  The two songs he already finished sounds incredible, a teaser will available soon on our online crowdfunding campaign. The new Shotgun Slinger music video will be released soon with our crowd funding campaign as well. We expect the album to be out before May, rn the latest June.  We also have our own merchandise range coming out soon, from L.A. Cobra Tattoo aftercare to our own sunscreen and everything in between.
Sign up on our page to get the latest info and PLEASE support our campaign it's really up to you to make it all happen. www.lacobra.co.za or www.facebook.com/lacobraband
Scott: Whilst we are talking L.A Cobra, here's a moment to introduce your fellow band members and give a fun fact on each?
Don: I'm proud to say that these guys are the longest running L.A. Cobra line up to date and we're family, brothers.
Fun fact Slade our lead guitarist and backing vox is the father of twin boys, "Deo and Enzo", he loves to shoot with his shotgun and he never misses a shot…hehe that's off course why he has twins! We both ride Harleys together when we are off, he also recorded our new album that's coming out. He has 3 University degrees. Callie The Animal is my drummer and I'm his singer..haha, he is also the only remaining member of the original line-up since 2005.  He loves classical music and compositions and brings that influence into our song writing. He also loves his dog Sammy which is named after Sammy Hagar [laughs].
Ewil Honey pronounced 'evil" and yes his surname is really "Honey" is the latest edition since 2013 and our little brother, he plays bass and does backing vox. I met him drunk at a festival and called him the Monday, he didn't even audition really just said "yes", we didn't know if he could play…it just worked out.  Interesting fact, actor James Franco is his lookalike and makes him very popular with the ladies.  He also enjoys burning down houses in his part time or shall I say party time (not on purpose I must add) I cannot mention anything more on that, let's just say he lost a brand new Fender P-Bass to the pits of hell and we didn't even have a rehearsal or a gig with it and left 12 people homeless (again not on purpose) haha!
Scott: Seeing your campaign to get voted onto the legendary Sweden Rock Festival and also having Swedish management, is the plan to soon head over to Scandanavia on the back of the new album?  Anything to be mentioned now?
Don: We were totally surprised by getting chosen for the SRF band competition we only lost out by a few votes actually so 2018 is our year for that…hehe.  Yeah the plan is definitely to head to Scandinavia with our new album very very soon, we're actually busy with negotiations with another festival on the 12 May, and hoping we'll get the contract real soon.  Otherwise there is another opportunity for us to go and play there in Aug/Sept…we just hope it all happens, but we'll definitely make it happen one way or another.
Scott: What or who influences your music the most, in both a lyrical and musical sense?
Don: Lyrical I would say: life, relationships, girls, rock n roll, abuse and misuse and anything we can relate to.  On our previous album How Much Snake… for example I wrote lyrics for the song "Whiskey High Roller" and it's about the movie "21" casino's and gambling.  So we're quite diverse, anything can change into lyrics or a good story if you know what I mean.
We tend to stay away from political stuff with all the shit that's happened with South Africa in the past and the new shit that arises daily with our new corrupt government and white farmers being murdered for their land… Oooops I think I said enough bout that topic…. on a lighter note: In a musical sense we love to play stuff that makes us happy as musicians and to put some technical stuff in but to use it smart and not over play stuff, but use it rather tastefully.
Scott: In terms of your songwriting, what do you consider to be the most important ingredients that need to feature in a L.A Cobra song?
Don: We all have different interests in music, as I said earlier Callie The Animal is into classical music for eg. and it all comes together when we start writing and structuring the riffs our guitarist will come up with or vocal melodies. Slade has got an amazing sense for melodies and the flow of getting it all together and Ewil's backing vocal ideas and bass lines that he comes up with is something else but the norm. I like to listen to what's out there, what's trending to get a better perspective on what our fellow rockers are doing.  The music scene is ever-changing and we like to evolve, but keep our sound and our love for sleaze rock/metal.
Working with Martin on our new album and some of his ideas when it comes to the production side of it is insane and it just gives us that some extra flavour and warmth if you know what I mean.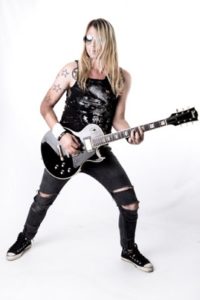 Scott: If you were a person in the crowd at one of your gigs, what five words would you walk away using to describe the performance you just witnessed?
Don: Maybe Don deserves my girlfriend [laughs]. "Let's make this shit viral".
Scott: What kind of movie soundtrack do you think your music would be best suited?
Don: This is difficult [laughs]. There's so many aspects to consider but I'd love for our music to be featured in a Tarantino kind of movie or something "Transformers" or "Avengers" or a Marvel movie…  Those action packed thrilling sequences and get the youth into good ol' Rock n Roll.
Actually three of our songs we're featured in a South African movie that I also starred in called "Bustin Chops-The Movie". It's a South African stunt comedy similar to Jack Ass and the Dudesons, but we had an actual story line it wasn't just stunts only, and I was one of the guys getting my ass kicked in the movie.  Almost died actually [laughs]  if I remember correctly it was actually on TV in New Zealand, it was on cinema in South Africa, Netherlands and funny enough in China [laughs].
Scott: Here's a chance to gaze into your crystal ball.  In the next 12 months Don Cobra / L.A Cobra will have:
Don: 1. L.A. Cobra will have toured Scandinavia, Europe, Australia and Brazil
2. Top the charts with "Shotgun Slinger" and released a new one
3. To have awesome drunk hilarious rock n roll tour moments with my brothers and stories/experiences to tell our friends and families and to actually be alive and healthy to tell the tale.
Check out more L.A Cobra
Website:  www.lacobra.co.za
Facebook: www.facebook.com/lacobraband