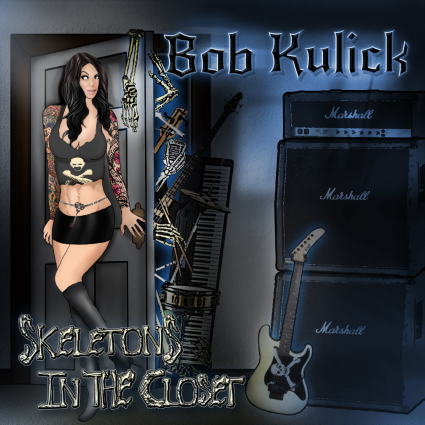 Most within rock circles would have heard the name Bob Kulick, and if you're a fan of Kiss, Lou Reed or Meatloaf you may even be familiar with his work. Fewer though I'm guessing would have heard of his bands Balance, Skull or more recently Murder's Row. What might come as a surprise though after 50 years in the industry is that this is his first ever solo release. Yes, the man who got his younger brother the job with Kiss, the man who  played alongside Jimmy James and the Blue Flames, the man who wrote for Kiss and played live for Lou Reed and Meatloaf has finally got round to a first solo album!
Now like me you might be excited by the prospect of Bob raiding his back catalogue of songs from those 50 magical years, but that's not what we get – what 'Skeletons…' delivers is five 'new' tracks and 5 songs from Bob's "storied past" which sounds like quite a meager return for 50 years worth of material.
In reality it isn't even quite that – four tracks were written with former Balance band-mate Doug Katsaros and brother Bruce, 5 were, as it says, "pulled out from my "closet" and a rather "Cabaret meets Alice Cooper" take on the Bond Theme 'Goldfinger' was tacked on. As we said it doesn't really seem much like either a walk through a great career or even a really enthusiastic dip of the toe in the water.
As usual though it all comes down to 'OK forget about that scene setting is what we get any good'? Are the new songs up to scratch? Are the old ones and cover something fresh and new, or merely just nail it?
To be honest we start off well: 'Rich Man' is a nice wailing rocker with Todd Kerns belting out a cool vocal; and 'Not Before You' (another new number) which sees Robin McAuley handle vocals and brother Bruce bass, has a nice swagger about it. You can see why Bob was inspired by the new material ad I guess if we take anything from the album its a sense of wishing he'd done rather more.
The other two new tracks follow separated by a rather forgettable cover of the Bond theme 'Goldfinger' which is subjected to an Alice Cooper-like treatment which could have been inspired but ends up rather cringe-worthy. Maybe best of the new tracks is the lyrical story-telling of the Jack the Ripper inspired 'London' which could grace any rock opera and to which Dee Snider lends a great vocal .Now if only there had been more like this we'd be looking at an entirely different album! The final new track 'Player' is pretty decent too, and I'm a big fan of the Andrew Freeman vocal on what comes across as almost heavy Foreigner.
The second half of the album dips back into Bob's back catalogue and I was presuming that these older tracks would be re-recorded versions until I saw that the Skull offering 'Eyes of a Stranger' featured the Skull line-up from 1991, and the same went for Murders Row's 'India' from 1996. If that's the case then five new tracks and a smattering of  5 oldies as they were originally served kind of strengthens the case that this should either have been an EP or a more exhaustive anthology.
'India' is an OK song and I've always liked David Glen Eisley from Giuffria and Dirty White Boy but it's not the selection I would have made from the Murderers' Row album, nor would I have necessarily chosen to include the rather uninspired title track (another from Murderer's Row) or the Sponge Bob outtake 'Can't Stop the Rock'. Bob has better songs than that in his rear-view mirror so the track selection is the oddest thing about this whole outing. Add to that  Skull's 'Guitar Commandos' which has some really rather dodgy lyrics  and we're only saved by the sprightly final track – 'Eyes of a Stranger' the opening track from Skull's 'No Bones About It'.
This isn't a bad album and indeed it's probably worth it just for Bob's guitar, but like we said before it misses a trick or two. Now if there was an award for 'dodgy' album covers' that's another story entirely – we would be looking at number one with a bullet without a doubt!