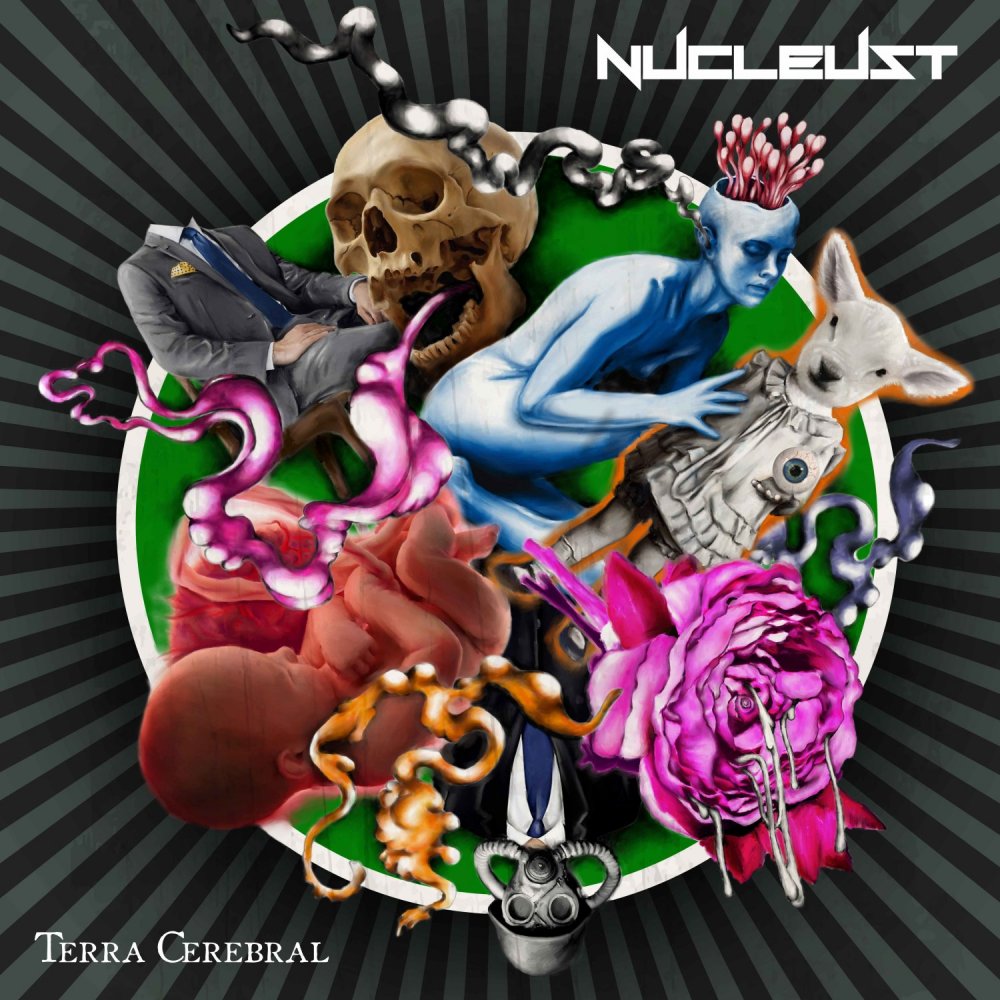 "Terra" (in science fiction) it means planet Earth, so Terra Cerebral might sound like a beast coming out  from the depth of earth to unleash their wrath and grab us by the neck and yell at us to let us know to be prepared or face the consequences.
What an album by Nucleust. It has all the ingredients to become a classic of it's own, is a lesson in violence with lots of curveballs and that's why it never gets boring, you must pay attention all the way as this album brings a whole dimension for the listener.
"Lullaby Paranoid" breaks the ice and pours like a storm, the subtle intro is only to warn us that the best is yet to come and this song is unleashed like a wild dog, obliterating everything in it's path, is chaotic, melodic and obnoxious, I don't think you can't ask for more.
As the opener the rest of the songs has their own identity. "Nothing Is Real But Death" is another anthem, as well destroying what was already been damaged. Like I said they come up with the most subtle passages and you fall into a world of hallucinations but suddenly a force to be reckoned wakes you up and brings total euphoria again and this songs does  exactly that, when you hear the spoken words you think what was all that about? But the emotions are running through and "Quantum Umbrella" brings you to your senses and takes you to another level, a beautiful song that shows what this band is all about. Expect the unexpected and when I said that it's because you must pay attention and listen to this carefully.
"Re-Earth" breaks the mould and by now Nucleust wants to show you they can play brutal and fast delivering a dose of chugging riffs along blastbeats but the madness evolves into something else, that's why I said you need to pay attention as this band doesn't follow just one formula, they want to create a total experience. The influences I hear, do I need to tell you? They might wear their influences up their sleeves but that's for you to find out, "Now listen  here mate, if you don't know is fine, but don't ask me because, don't f$&ing ask me alright!!" So had you been paying attention who they might sound like?
As the album is churning along "Of Man And Tree" shows another side of the band , the melodic approach is totally on this one. The keyboards creates a different atmosphere, is epic surrounded by catchy hooks and the melodies are flowing here, always adding the unexpected and those piercing guitar riffs are ever present and I have to mention the vocals are totally powerful and makes the songs bigger in sound.
As well this album has atmospheric passages, a truly well crafted piece of art I can't see any fault in it  and the other two tracks are no exception. "Lost Of A Dearest" and "The Inner Self" follow the same vein, it feels this album is more like a soundtrack and that's why it's so diverse and the adrenaline is always high but they save the best for last. "The Symphony Of Revenge" starts with another subtle intro that morphs into a beast, the riffs and melodies and drum beats all intertwine together to deliver another monster track that is full of chaotic passages and mesmerising landscapes. If they wanted to end on a high note, they totally did it.
Nucleust is not your typical band, another proud product of WA. Support the local bands, the local scene, this band has a bright future and I hope I'm not wrong.
TRACKLIST
Lullaby Paranoia
Nothing Is Real But Death
Quantum Umbrella
Re-earth
Of Man And Tree
Loss Of A Dearest
The Inner Self
The Symphony Of Revenge