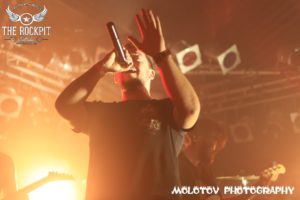 Awww yes! I am still buzzing!!! As I excitedly write up this review, my body is literally recovering from what was easily one of best live shows I've experienced so far this year. Tempest Rising's 'Trippin Across Australia' tour kicked off in Perth last night and delivered not only a first class line-up and venue to feed the senses, but also a sweet opportunity to party hard with friends and wish these lads all the very best in their travels abroad.
The evening opened perfectly with local thrashers Bayview Suspect and after my guts rattled from the first few Bass Bombs, I just knew we were in for a treat. These guys know how to put on a show and the growing crowd was drawn to the stage by their intense break downs, tight tripletts, hooky riffs and John's killer thrash vocals. Their heavy sound resonated amazingly through the venue (I'll take the opportunity now to give a horns up to Ian for perfecting the sound last night) and their set could have been simply described as one giant windmill.  Warmed up punters responded accordingly with devil horn salutes and applause between songs. If you're a gaming fan, I definitely suggest throwing on some Bayview Suspect for fitting background tunes.
Next up was Nucleust, a band I had not yet seen and at this point the atmosphere was pumped with excitement and anticipation. Without warning, they opened up with what felt like machine gun fire…dominating screeching vocals, monstrous break downs and the feeling of darker Black Metal undertones. Just when I thought I could put my finger on this Band's genre, it violently switched and the crowd were hurled through a rollercoaster of mind boggling jazz/metal combinations. My ears were ringing and I was hungry to see what else this band had to offer. All of a sudden, the song "Of King And Tree" was announced followed by a barrage of off-time riffs and haunting vocal combinations (both clean and heavy). Guitarist Max fueled the mosh-pit fire by jumping from the stage with his wireless axe and rallying the punters like a trooper. After some banter in between songs, it was made obvious how dedicated and passionate these guys are and their style of music is both unique and meaningful. I'm actually looking forward to following Nucleust to see what their upcoming album has to offer.
I would like to add at this point that there is something special about a Metal Show when the event organiser nails the lineup. And speaking of nails, for fans of industrial acts such as Nine Inch Nails or Marilyn Manson, local rockers Sparrow were a good choice in mixing things up for this event. Disguised behind creepy face paint designs, Sparrow began their assault with a perfect choice – the alien horn from War of the Worlds! As shivers rushed down my spine, the band kicked off with some highly addictive Rock/Metal riffs mixed with some catchy sing along choruses. Before long we were all bouncing around and things were starting to get nice and rowdy in time for the main act to come. However, many in the audience were just staring in awe, mesmerised by the outstanding performance before us. By the time they announced their song "Mirrors", folks in the crowd couldn't stop jumping around and were swiftly rewarded with a fantastic original new track followed by a Nine Inch Nails cover of 'Wish'. As their set progressed, the mosh-pit continued to heat up but as quickly as they had surfaced, Sparrow finished their set with a massive screaming outro and left us all wanting more.
As the evening continued, there was an a ecstatic vibe that had filled up the venue. The bar staff at Amplifier bar were amazing as always and made sure everyone was being looked after. I had a few beers myself at this point and I was as keen as ever to see the band on everyone's lips before they head off to conquer the country. The atmosphere was set and the supporters of Tempest Rising had gathered around the stage to show their allegiance to these upcoming WA legends. The crowd was becoming restless and had started to push each other around which was quite funny to watch. Then, like a crack of thunder, Tempest Rising's set began with their track "Singularity" and as soon as Vin's amazing vocals cut through, the seemingly hypnotised crowd went completely berserk. It was difficult to escape the chaos that followed, let alone spill your beer. By the time the band played their next song "Know My Name", Drummer Matty had lost his hat, Guitarists James and Daniel were jumping around the stage, Bassist Jarrod was throwing his bass around and the band continued to unleashed their arsenal of addictive break downs, choruses and sweet leads. Before long, a Go-Pro circulated through the crowd and everyone took turns filming the insanity of the relentless mosh-pits and windmilling.  At one point, one of the guitarists even jumped from the stage and started crowd surfing through their set. It was hilarious and the audience couldn't get enough of it.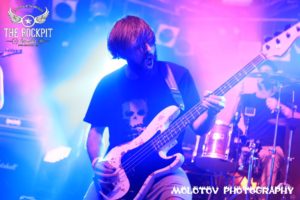 After a tight set, all good things must come to an end and the 'Well Oiled Machine' that is Tempest Rising announced their final song "Wretch" which turned out to be an excellent choice for everyone. Bodies continued to fly around and one local Metal Head legend known as 'Tibbsy' made sure he was always in the centre of it all, knocking about anyone around who dared get close. Their set ended nicely with a loud roar from the crowd and everyone respectfully raised their horns and cheered to the band that has achieved so much over the last few years.  The crowd wanted more but at the same time you couldn't wipe the smiles off the punter's faces. It was clear that everyone got their fair share of metal goodness until next time.
On behalf of Perth and WA, we wish Tempest Rising all the very best on their Australia tour and a big thanks to all the bands, the venue and the punters for such a brilliant night which I don't think many will forget.
Review: Hunz Fenrir
PHOTO GALLERY
Photos by Tammie Molotov – Molotov Enterprises & Photography