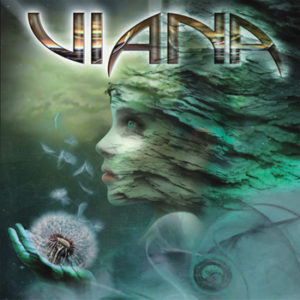 There's times when I review an album, I'll get that vibe that immediately takes me into an experience that I'll remember for years to come and there's times when that album will become part of my life's soundtrack. Viana wasn't one of those albums. This album took multiple listens to marinate in my head, which isn't a bad thing because I'm not gonna throw an artist [that's taken their passion and molded it into a work of art] under the bus because I was too lazy to take the time to let the music absorb. 
Italian guitar virtuoso Stefano Viana's work of art is his self-titled Viana; a melodic, guitar driven effort that really continues the legacy left by some of the 80's biggest rock heavyweights. Their influence on Viana's work here is undeniable and seems to be not just an album for 80's rock enthusiasts, but a gifting back of sorts from Viana who was once the student and now stands on his own to drive a genre that continues to be alive and well. For his debut effort, Viana brought in the very successful Italian session musicians in Anna Portalupi on bass, Alessandro Mori on drums, Gabriele Gozzi on backing vocals, and Pasquale Indo on keyboards.
This album took a long journey to get into the hands of the masses. What started in 2009, the project was put on hiatus after Viana became plagued with personal problems that required the artist's undivided attention. Some eight years later, the album was finally released via Street Symphonies Records.
The album begins with "Straight Between Our Hearts" and quite honestly, it took me a few listens to get into this one. It was never a bad tune; I just wanted something with more defining power for an opening introduction to the album with equally strong lyrics. "Straight Between Our Hearts" didn't do that for me. However, what you do get is your first introduction to Stefano Viana's sharp guitar work, which is what I did like about this selection and throughout the entire album.
In the next selection, "Bad Signs", I clearly liked the vocals better on this second offering; stronger and more commanding as it were. I would have chosen it as the first track as it was more memorable than "Straight Between Our Hearts". From a lyrical standpoint, this track also took the album up a notch and I liked the powerful, but short guitar solos that accentuated the catchy vocals that Alessandro Del Vecchio was dishing out. Yeah, I think we were a bit back on track here.
"Feel Your Love Tonight"-Definitely a track from 80's inspired melodies of the classic love ballad that slowly builds until the song calls for Viana's strong guitar work. After several listens, I ended up liking this single.
"Follow The Dawn"-This track follows the melodic inspired lyrics we knew when 80's rock reigned supreme. Like most of the other selections on the album, this track begins with Stefano Viana's short but impressive guitar work that transitions well into what is at this point some fine vocals by Alessandro Del Vecchio. With well written lyrics, a strong chorus, and melodic appeal; this was one of the standout tracks on the album that helped to make things interesting and it would make a good single for some radio play on the hard rock air waves.
"Living A Lie"-This track stays to a medium tempo and was also one that'll be remembered. Del Vecchio's vocals are hitting on all cylinders while the guitar work continues to impress; the right amount of guitar work singled out before transitioning back to the lyrical landscape where this track began.
"Open Road"-A catchy, melodic track where Del Vecchio's vocals were surrounded by a blanket of Viana's solid guitar riffs. Rock enthusiasts will appreciate this ballad, but I think this single should have been the last one. "That Place Is You" was too slow to end my experience with Viana.
Such is my review of Viana that it started and finished slow, but had enough quality in between that begs for Stefano Viana to give rock fans more with a future studio effort. While I ended up appreciating the vocals of Alessandro Del Vecchio, the strongest influence on this album is Viana's skillful guitar work.
TRACKLIST
Straight Between Our Hearts
Bad Signs
Feel Your Love Tonight
Night Of Fire
Follow The Dawn
A New Love
Living A Lie
Just To Sing
Open Road
That Place Is You