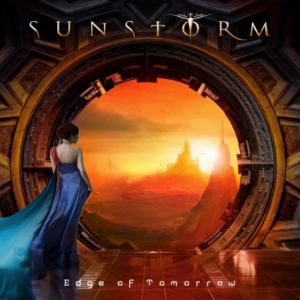 There's a drive and an urgency to the opening track of the new Sunstorm album 'Don't Walk Away From A Goodbye' that immediately hits the spot and makes you believe that thus will be another great listen from the Joe Lynn Turner fronted band. That feeling is immediately backed up by the melodic precision of title track 'Edge Of Tomorrow'. There's a harder edge here too almost melding the melody of Sunstorm with the more urgent material of his latest 'Rated X' project.
Sunstorm of course already have runs on the board with the release of the first Sunstorm album in 2006, then "House of Dreams" in 2009, and "Emotional Fire" in 2012. This question of course needs to be asked – is the third time the charm?
If you crave rockers then there's plenty to tuck into: 'Heart Of The Storm' has the riff and the drive, as does the classy 'You Hold Me Down' but on an album with that slightly harder edge evident there's more than enough big guitar to please that like their melodies a bit harder.
The mid-tempo does hold sway though: 'Nothing Left To Say' has plenty to say as does the smoldering 'The Sound Of Goodbye' but it's probably the fiery 'Everything You've Got' or maybe 'Burning Fire' that win the melody stakes by a nose over the luxuriant 'Tangled In Blue'.
The ballads of course are just as big, as you might expect with Turner's voice, and the sweeping 'The Darkness of This Dawn' is one that really works best, but 'Angel Eyes; gives is some stiff competition.
This is another good Sunstorm album, on reflection perhaps not quite as good as its predecessors and if I'm honest I preferred the Rated X project, this album seems to inhabit the ground between the two. Fans will be happy and anyone else out there with an ear for well-written, well-performed Melodic Rock.
SUNSTORM
Joe Lynn Turner – Lead Vocals
Alessandro Del Vecchio, Hammond organ, keyboards, backing vocals
Simone Mularoni, guitars
Nik Mazzucconi, bass
Francesco Jovino, drums