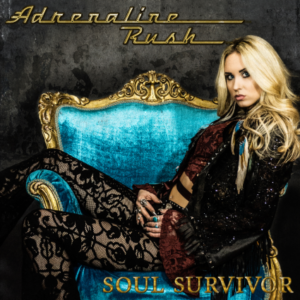 In 2014 Adrenaline Rush put out one of the very best albums of the year – an album that still gets on our playlist to this day. It was a great album and to be blunt aside from the Ann Wilsons of this world few female vocalists had captured us so completely as Tåve Wanning, and I wont for a moment compare her to Ann but there is something about her voice that sounds great in a hard rock setting. All we wanted after that first album was more of the likes of 'Change' and 'Generation Left Behind' – two of our first album favourites.
Both openers 'Adrenaline' and 'Love Like Poison' (the single) are fiery hard rockers with more than enough burn and attitude to get the blood flowing, but unlike the press release suggests they aren't too much 'darker, evolved, or even more complex' than that first release – they are what they are, great 80's inspired Hard Rock tracks with the only discernable 'new' edge coming from the wonderful mastering of Eclipse's  Erik Mårtensson (who also has a co-writing credit here).
The rest of the album is just as succulent: 'Breaking the Chains' flows nicely and the harder 'Stand My Ground' and 'My Life' drive it home a little heavier than on the debut. Indeed the deeper you get the more you appreciate the time that has gone into writing this follow up release. The melodic 'Wild Side' stands tall and the groove-laden 'Don't Wake Me Up' would move anyone. It's a great album and more importantly a great second album keeping the quality high as it was first time around.
On another tangent entirety Tåve says in the press release "I didn't want to make another album just like the first one, I've grown since we recorded the first, I am in a different place. And I feel the album reflects that. The new tracks really complement the old instead of replacing them; they add a new dimension and gives us a broader spectrum of songs to choose from when playing live." My immediate reaction was 'Really?' the album has after all pretty much the exact same sort of thrust and attitude as the first (and that's great by the way) and sonically is not that different to its predecessor, there's  just better production and at times far more crunch to the guitars.
Jeez, It's a great album but it is what it is: a band you'll probably never see 'live' (playing just 11 dates since 2014 and with 2 more set for 2017) and as a result you feel robbed – here's a great band who may never grow – just like a lot of great Rock these days: It's so underfinanced and so underexposed, and that is not what keeps ROCK alive. We are a breed that lives off 'live' we need to see what we hear – that quite simply is what life is all about.
Don't get me wrong: this is a great album, but the press release ends with "Hope to see you at a gig. Until then… enjoy the Rush!" I just wish that was actually going to happen. Please prove me wrong – we need bands like this to keep the music we love alive. Some bands needs to take a stand,do it themselves, get in a van  and take the music we all love out there – it's not easy I know that but without that commitment we'll never know what could have been.
ADRENALINE RUSH
Tave Wanning – lead vocals
Sam Soderlindh – lead guitar, vocals
Alexander Hagman – guitar, vocals
Joel Fox – bass, vocals
Marcus Johansson – drums