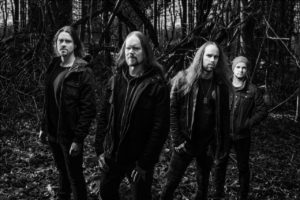 Finnish melodic death metal masters Insomnium return to Australia after their successful supporting role with The Haunted in 2015, not only satisfying Aussie punters who waited to see the band live for the first time but impressing those who discovered them also for the first time. When I last chatted to vocalist Niilo Sevänen before that tour, he was excited to finally make it down under for the first time ever and now with a headlining run upon us, that feeling has not gone away.
"It's awesome to come back! 2015 visit was great and we've been waiting for the next chance to come over there. We got to do some tourist stuff and surfing in Brisbane and Gold Coast so that was something special. Shows were much better than expected and there were lot of people who had been waiting for us. So yeah, Australia rocked."
Insomnium have built a solid career which is now at 20 years which in this day and age is an amazing feat. But after 20 years things can sometimes become mundane and bands fall into the trap of going through the motions. It's clearly not the case here though for Insomnium as they still venture into new territories, not just musically but also in touring around the world which must be inspiring which one day as Niilo also says will hopefully lead them to other places like New Zealand, Latin America and Iceland.
"Part of the fun is to get to new places", Niilo explains. "And you get extra excited when coming to a new country. I don't know if it affects the show, but the general mood." 
"Winter's Gate" is the latest album from Insomnium which was released last year and is a somewhat challenging record but one that continue's the bands progression adding darker and more difficult elements. Conceptually it revolves around a story of vikings who set out to discover new land, ironically kind of what Insomnium did in 2015 with their tour with The Haunted in some ways but the idea of a single track at 40 minutes long is impressive and daunting for listeners.
"Well, it's obviously quite [a] special release, consisting of one 40 min track and short story. We wanted to do something different this time so that's how it started. Niilo continues to say that the reception has been pretty positive so far too. "Fans seem to love it, and I'm sure we have got some new fans as well. In a live situation it has worked well and people listen to it really intensively."
So can we expect much of the new material on the tour? "[Expect] a longer set, we play Winter's Gate and then some older songs as well. Should be great!".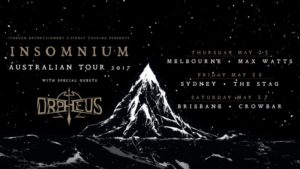 Inspiration for artists can come from any number of things and the same can be said for Insomnium which appears to not be limited to one type of thing. "Can be anything, story, book, movie, song, dream", he briefly states as we start to get into the 20th anniversary of Insomnium which is a great milestone for the band.
"[It] makes me feel old", Niilo jokes. "Well, it's great obviously that we've been together so long and achieved good things. We have always done exactly the kind of music we want, so we have been genuinely thrilled about it. This is what we have wanted to do. Of course we have been lucky and our career has progressed all the time. Motivation has stayed high."
So what's the secret for the band to keep going? The answer is surprisingly simple and one that many of us already take!
"Coffee!", Niilo simply puts. Well I guess I better start loading up on latte's and extra sugar if I'm going to have a career in the music industry. Sounds easy enough! Moving back to the career of Insomnium, I ask what's next for the Finnish metallers after their trip to Australia and whether there will be plans to head back to the studio to work on new songs again.
"Let's see, lot of touring at least", says Niilo. "No plans about the next album yet". But for now Australia is next on their agenda and the vocalist is excited once again to see the Australian fans and put on one hell of a tour as he gives us some last words to send off.
"Come see the show! It will be great and we are really looking forward to it! Cheers!"
TOUR DATES
Thursday, May 25: Max Watts, Melbourne
Friday, May 26: The Bald Faced Stag, Sydney
Saturday, May 27: Crowbar, Brisbane