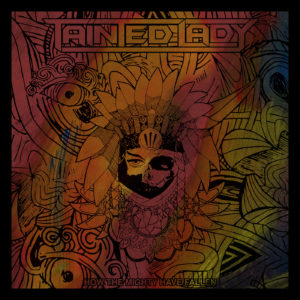 I don't often quote large chunks from band bios but something about the Tainted Lady press release sounded rather intriguing: "Tainted Lady is a hard-hitting, unadulterated, energetic rock band from Denmark consisting of five passionate musicians in their early twenties. Fuelled by a passion to make rock music dangerous again, the five members strongly voice their opinions through their lyrics and are never afraid to speak their minds – Soren Andersen (their Producer) even dubbing their music "rebel-rock"…. they are determined to write original music of real substance, always seeking unique ways to arrange and refine their old-school style of playing. With a blend of Catton's distinctive vocals, screeching twin guitar solos, big Queen-like harmonies, rumbling bass and thundering drums, they are a rebellious act to be reckoned with – writing rock music like it has never been written before." The big question of course, as always, is do the words match the output?
Sonically opening track 'The Witness' is 26 seconds of sweetly sung and sparsely backed Folky intro, as anyone who has read my reviews will know I have a particular dislike for that kind of thing, it's either good enough to be part of the song or it isn't. In truth 'Set Us Free' the pacey rocker that follows has absolutely no connection I can feel with the opening piece musically or lyrically.
'Set Us Free' sounds like Australian band Jet but with more retro rock overtones than worship at the altar of The Kinks and You Am I. It also has a spoken word rant about the state of Rock music, now  that's all very topical, all very right-on, but before you start preaching to the listener maybe you should get some runs on the board first?
'Ampburner' that follows may well be the coolest name for a song I've heard all year but it's all very Rival Sons-lite with a rather sweet and rather average melodic hook. True, the band does do a breakdown rather well but there's a real lack of focus that might be mistaken for attitude. And that is sort of the whole dilemma of the album: it's a wonderful manifesto to have, a sizzling bio, but it's only at times you feel the band actually hits the nail on the head. It's not lack of talent though it's the rather ragged execution that at times seems like it's there and then it…. just falls short.
A few songs in though something happens, things start lining up – the almost Folky chant  at the start of 'Song of Reckoning' (which is more akin to that flimsy opening) before the fiery guitar break actually  works – its a cool idea and even though the breakdown is a little too smooth to be perfect there are some nice Zepplinesque overtones that make you start to rethink.
'Loverman' chugs and rattles along (again rather Jet-like) and 'The Best Days' takes things right down to the acoustic quite beautifully. The latter is a song that grows organically and rides a wonderful guitar line. Both are great songs.
The rest of the album is a mixed bag 'Open Minded' tries but doesn't really connect; 'On the Loose' is grander, more consciously 'retro' and more expansive – it ends up being one of the very best tracks here. 'Sons of Guns' that follows it actually finds a middle ground between the two almost conflicting sonic identities, it's another interesting song before closer 'Last of Our kind' gets back to the dynamics of the best tracks here, before turning into a rather gentle final word comparatively.
tainted lady have enough about them to imagine that one day they might fulfil their manifesto, but in truth there are only hints of that here. An album worth exploring, but not quite essential.