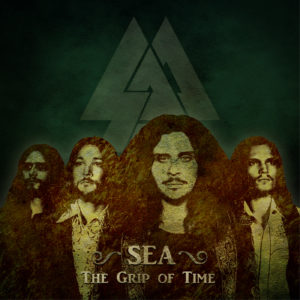 There's a real sense of time and space to Sea's new release: 'The Grip of Time', which rides retro waves like the eighties is still on the horizon and Rock still rules the oceans.
Taking the histrionic and emotive 'Rust' as an elongated call to arms we really get going with 'Once we Were Dead' which poses the heaviest question on the back of guitars spelt out like Rival Sons. Indeed those Americans aren't too bad a touchstone if you upgrade the groove from rock to something altogether more metallic. That's not to say Sea is a Metal band at all such a tag in the sense we think of it today has yet to be invented after all.
Far more brooding is 'Time Will Let You Know' a song that you might call dark, yet really it's just good solid hard rock. 'Shout' adds an unexpected lightness with its rolling groove and guitar stabs, it's probably the most representative take on their influences – hard riffs,  strong vocals and an innate sense of purpose and as it builds you feel the air in the roo move.
For a band with such a raw sound you can imagine them taking the stage sounding pretty much as they do here: 'No Dawn' may take things down a notch but it's just as focussed and has a vibe and guitar sound not  unlike Thin Lizzy's quieter moments, with a weeping classic rock refrain. 'Back to the Ground'  ups the ante, then drifts back, smoky and atmospheric before striking out again. 'Sing For Your Right' on the other hand brings the Blues and that Rival Sons flavour finds its way into your mouth again. It's a solid middle section to what is turning into a great album.
The last three tracks are in truth three of the most memorable, as the stabbing riff to 'Dust Will Fall' hits you're reminded of the swagger of the hard rock behemoths of yesteryear. There's no sense of anything as trite as NWOBHM here just the sense that the band has listened to the same formative influences and absorbed them. 'The Stranger Within' on the other hand is the band at their most rocking and raucous, all insistent vocals and wailing guitars it has a sense of urgency and purpose as it unfolds.
The last word goes to 'Sea' which takes its title from the band name itself, it's a gentle melodic almost delicate piece that seems to be the calm after the storm. Sea might just turn out to be a very important band indeed.