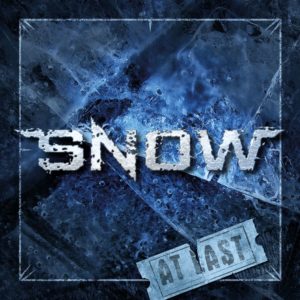 I have these vague memories of reading music papers as a kid -an article on Van Halen and their rise, and I recall the name 'Snow' as being one of their contemporaries who used to play the same 'keg party' circuit that Halen did. Formed from the ashes of 'Speed Of Light' by the Cavazo brothers – guitarist Carlos and bassist Tony – 'Snow' could have been as huge as Van Halen. Sadly, the quartet (the line-up completed by vocalist Doug Ellison and drummer Stephen Quadros) just couldn't get signed for love or money.
'At Last' is the album that should finally answer that question of just how good these guys were in the days when they shared bills and stages with the likes of Smile, Pretty Poison, Eulogy, A La Carte, White Sister, Pegasus, The Boyz, Quiet Riot and London at iconic venues like clubs like The Whisky A Go Go, The Troubadour and The Starwood.
This album contains 12 tracks, including the 5 tracks that made up the band's only self-titled EP from 1981 ('No Way To Treat A Lady', 'Hell No', 'Crack The Whip', 'Bad Generation' and 'Don't Want Anymore'). Presumably the rest came from unreleased demos, though the press release doesn't mention their provenance.
Well here we go…
In truth this is pretty decent stuff, nice early eighties hard rock with great drive and nice rhythm, but its also rather apparent why bands like 'Snow' didn't get signed back in the day. Though there are some nice ideas here the songs really aren't quite there. Nice as they are there's nothing that really captures your imagination except fleetingly.
Opener 'We're Gonna Make It' has the vague feel of Montrose and there's a somewhat Halenesque dynamic to the rhythm section and that turbo-charged EVH-style solo but it's as good as it gets. If you like that sort of thing then the bass-driven 'Oh Baby' is also worth your time, its a song that has a fleeting appeal, as dos the sixties fixated 'Steal a Kiss'. But that is essentially the story of the album, it's nice,it's perhaps even solid but it's not going to change your world.
Best of the rest are the 'Crack the Whip'; 'No Way to Treat a Lady' and the rapid-fire almost American take on NWOBHM that is 'Bad Generation'. Whilst members of the band did of course go on to have an influence on early 80's US Rock, 'Snow' in reality is not much more than a footnote in history and certainly nothing to rival bands of the calibre of early Van Halen.  As a document of the times though its nice that its finally seen daylight.