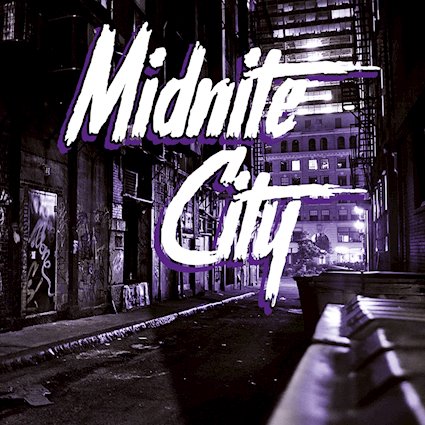 There's just the right amount of grunt in the guitars and more than enough melody in opening track 'We Belong' to make you believe that Rob Wyldes' latest band 'Midnite City' might really have created something very special here. There's a real feeling of the glory days of the late eighties about the sound and more than a hint of Danger Danger in their prime. It's a track I actually found myself playing a half a dozen times before I ventured on – it really is that good.
'Ghost of my Old Friends' that follows it is that age old tale of years passing us by and it rides the silken threads of melody to a chorus awash with saccharin backing vocals and a strong hook. Tick that box too it's another winner,and one that gets better with each subsequent listen!
Rob Wylde of course will be well known to many, current lead singer with Tigertailz, and ex-vocalist/guitarist with one of my favourite bands this millennium Teenage Casket Company, not to mention his stints with Vega, China Doll, Sins of America and current 'covers band' Poizon. That's a lot of experience under the belt and it shows – this indeed sounds like the album he was born to make.
'Summer of out Lives' one of the original songs Wylde demoed to get the deal with AOR Heaven has a nice Teenage Casket Company kick to the opening and more of that punky edge that suits Wylde's vocals so well. But its when the sweet summer melody of the chorus kicks in that you get carried away. Three songs in we're looking at something rather special indeed.
At every turn the most astounding thing about this debut is the sheer quality of the songs. 'Nothing's Like Losing You' takes the pace off a little but delivers another memorable refrain; 'Last Beat of My Heart' is mid-tempo bliss; and 'Everything You Meant to Me' rounds out the first half with a ballad that may well follow a familiar pattern and subject matter but still manages to connect and bring up the hairs on the back of your neck. Six songs in you are well and truly hooked.
Deeper in, 'Can't Wait For the Nights' is sheer feel-good hair metal with a shot or two of pop for good measure; whilst 'One Step Away' manages to channel Wylde's inner Rick Springfield. 'I Just Can't Take It' adds more of that summer feeling and has one of the most immediate hooks here. That's followed by the second ballad 'Things She Said' which really has class written all over it and seems like a sure fire late night, end of the set certainty.
Final track 'Think About You' attempts to trump the lot of them. It's a mid tempo rocker in the vein of the opening track and equally as good, maybe even the best song here. This is an album that has it all – there's a uplifting feel to this one, a kick of rock, the sheen of pop, and the smell of the summer in every slice. Remember when music used to be fun? Well I've news for you – it is again.
Midnite City is out on AOR Heaven on October 20th,  2017, Midnite City will be taking their live show out on the road in the UK, Europe and the USA in late 2017/ 2018. You better be there.
https://www.facebook.com/midnitecityuk/