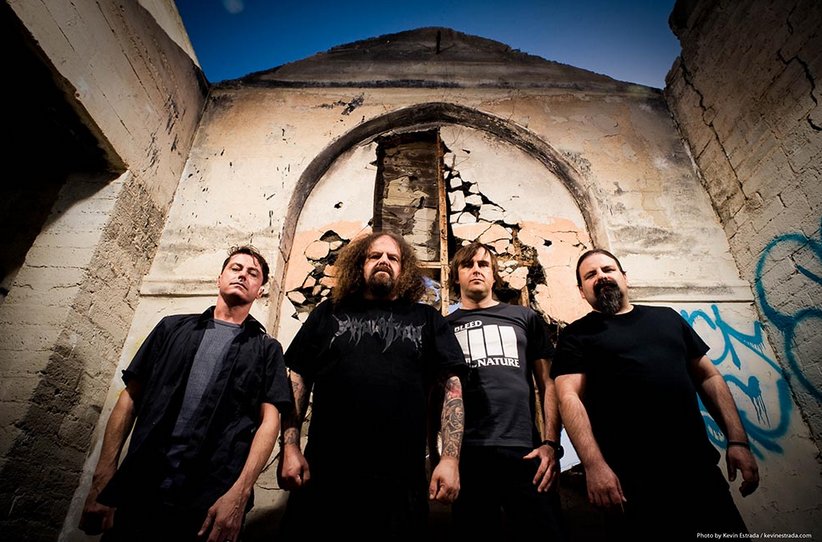 Napalm Death return to Australia & New Zealand for the Campaign To Destruction tour along with support from Brujeria, Lockup and Black Rheno. We talk to Shane Embury about the tour as well as his triple duties performing in 3 of the bands on the tour.

Steve: Hey Shane how's it going?
Shane: Yeah I'm good mate. The weather is pretty shitty but that's England for you (laughs).
Steve: I suppose you'll be busting to get to Australia?
Shane: Yeah I'm definitely looking forward to it
Steve: Excellent so are we! So what do you think has kept Napalm Death going for so many years besides sheer determination and sheer brutality?
Shane: Well I suppose when you're younger you think things are going to last forever perhaps and as you get stuck into albums, definitely around 1988, 1989 and 1990 it was a different scene compared to what it is now. A lot more bands, a lot more countries have opened up to music. We were one of those bands that was lucky to travel and just play a lot of different festivals, I think not everyone is cut out for being in a band or spending that much time away from home so you have to be a single minded person to do it really and we just enjoy what we do. We've all had our ups and downs for sure but over the years the world has opened up to extreme music and it gave us the opportunity to do what we do and I think with our attitude being the way that it is, it's a little bit different from other bands I suppose but when this is something you want to do you become more and more encouraged by that the time your doing it so as the years go on you look back and go, 'Wow I've been here for ten years'. It kick starts you and you start to take it even more seriously. I think Napalm has given me the opportunity to to meet all these people and create the music we have, I wouldn't say it encompasses an almost spiritual experience but music is an amazing thing.
Steve: Sure so when it comes to touring I know it's great to travel and all but do you ever get sick of jumping on planes?
Shane: Well playing shows is usually cool, that's the fun thing. Traveling gets kind of annoying because of the world we live in and the way things are, security checks every five minutes. This time of year in Europe it's quite touristy so it's very very busy. Kevin Sharp (Lockup) says we get paid to travel, the gig is the easy part but you have to pinch yourself and remember that some people have to work their balls off nine to five and music or art is our outlet. We get to do this for a living, this was not our initial intention, we did it for fun. But last year I played over one hundred and sixty shows and it would be kind of impossible to hold down a regular job and if I didn't do this, 'What have you been doing for the past thirty years? Oh just playing Grindcore!' (laughs). I mean I'm married, I have a little daughter and that becomes challenging because you're away for long periods of time. My wife is Japanese and she is in a country where she has made a lot of friends so that becomes difficult when you're away so it's not that you get sick of it but as you get older you have more things to balance I suppose. But that's just the way it is, no different to anyone else. It's great to tour, we recently did a festival in Istanbul, the festival was great but unfortunately the airline company lost our guitars going there and coming back and that was more stressful because then you have to play on stuff you're not familiar with so then you worry and hope you play the gig for the people who have come to see you, but ultimately it was good.
Steve: Absolutely. So what do you think has kept you inspired to write records? Do yo have anything in particular you like to do given you guys have been around for so long?
Shane: Well Barney (Greenway, vocalist) obviously has different techniques, obviously being the main lyricist he would reflect I imagine on traveling, reading books. He's very much a current affairs guy, he's in on what's going on around the world and I think that inspires him. Lyrically for me I tend to be a bit more of an escape artist in a way, I like to read fantastical books or you might watch an interesting movie and say, 'Wow! That's an interesting quote that guy said', so you might jot it down so you look at it later and then a word might inspire you lyrically but I think and hope as a musician that I'm getting better at playing by doing that. I'm always thinking about it, really I'm lucky to have played with other drummers and guitarists and people I admire and that just keeps me inspired. It's always ticking in the back of my head, that's just the way I am. I said this to Danny Herrera (Drums, Napalm Death) yesterday as we were working on new songs for Napalm Death and sometimes I think I've already recorded the riff because I have a riff in my head for so long that I keep on humming it, then have to go back to our previous albums to realize that I haven't recorded it, it's just part of what I do. I still love putting albums together, it makes me tick. I love when we rehearse and go into the studio, you watch the drums get down and the guitars get tracked and everything builds up. Sometimes the ones you thought were going to be amazing turned out Ok and the ones you though were Ok turned out to be the album winners so it's an interesting process.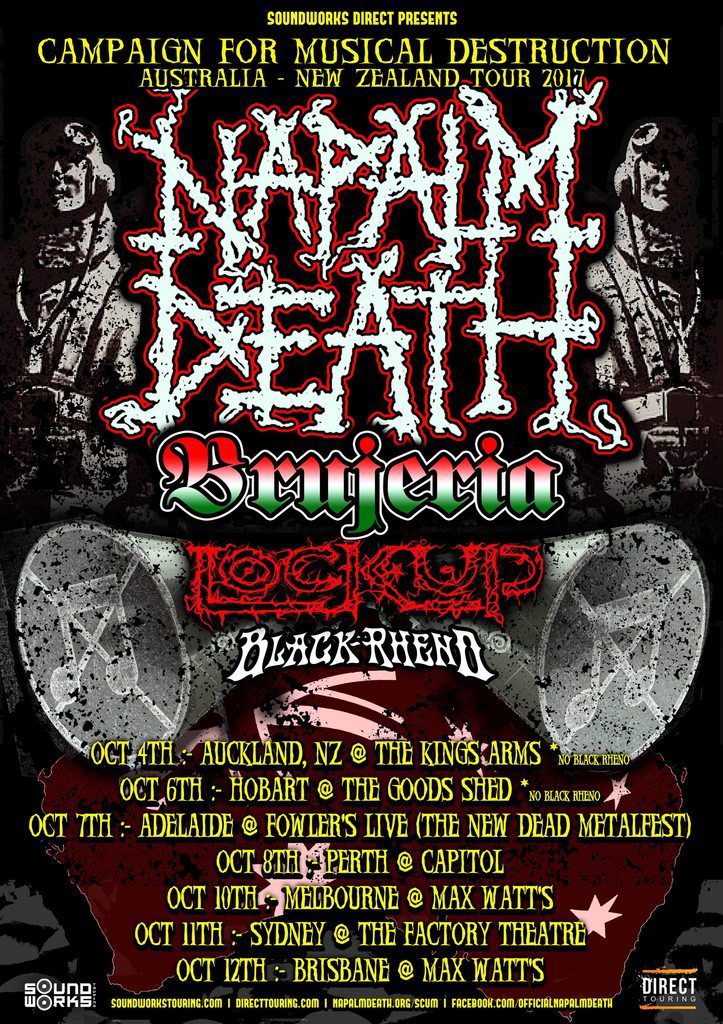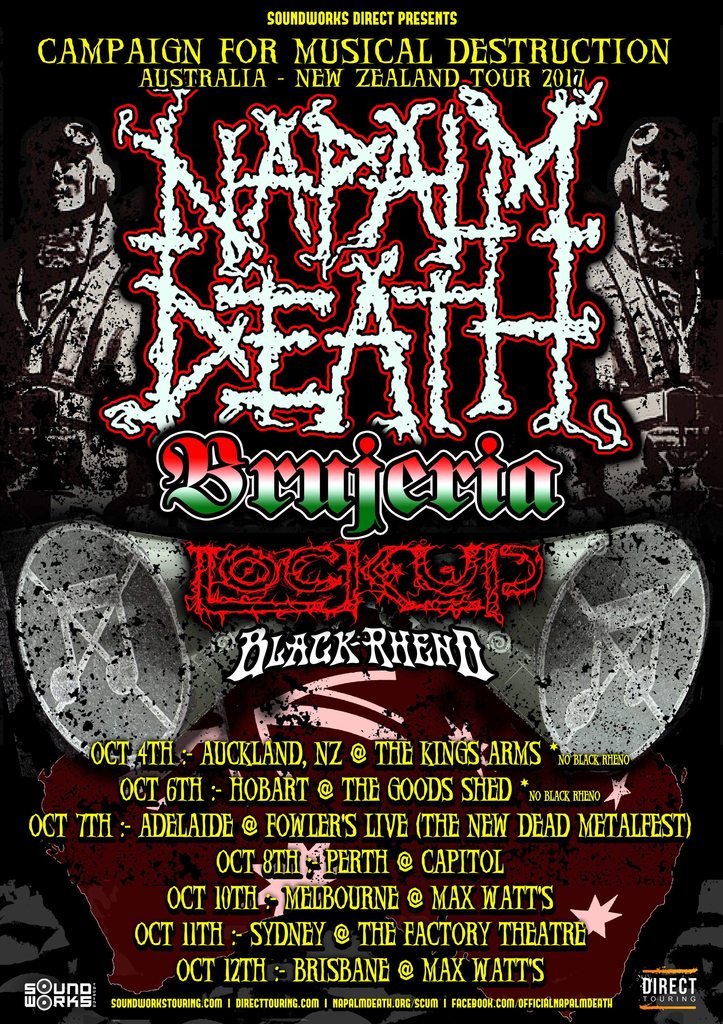 Steve: So I see that you are coming down under with a super heavy bill in the form of Lockup, Napalm Death and Brujeria so my question to you my good man is, how will you go doing all three for the night?
Shane: Nah should be Ok. I did it recently in Europe for twenty four shows, it was a bit of a challenge. I'm now approaching fifty in November and it takes a while to warm the old engine up, that's the way I look at it (laughs). Going on a thirty minute blast get the fingers going, warms you up and gets the arthritis out of the body so by the time Napalm is on I'm usual pretty nimble (laughs). Napalm is probably the hardest out of the three in some ways just because of the nature of the music but it should be fine. I'm not a crazy party animal like I use to be many years ago, I take it reasonably easy but definitely a busy night.
Steve: Awesome, well I definitely take my hat off to you because to do three bands in one night is no mean feat.
Shane: It's one of those things that you don't really intentionally aim to do, it happened that way from the beginning because Napalm and Brujeria came together and Lockup's album was out and I said to the guys would you mind Lockup opening because we didn't really get to do too many shows. It would be perfect timing for the album which it was because Lockup hadn't done anything for such a long time and Kevin was the new singer, it seemed strange at first because it had been six years between the last Lockup album and you could tell in that period that kids were growing up not knowing who we were so it was a great opportunity to sell some CD's of the new record. So it went 'I've heard the name but never really checked you out', so that was great. You've got to just do it at the end of the day because when in our schedules are we going to have a chance to do something like this again? It's like when we were talking we said, 'Well for an extra plane ticket we can bring Lockup as well', and they were like, 'As long as you think you can do it? Sure why not!'
Steve: Awesome! So what is your take on the new crop of Grindcore bands, are there any bands that are ticking the boxes for you as they say?
Shane: Normally I can answer that question reasonably well but lately life has been so busy and hectic with many many things. God I can't think of the last crazy band I heard that set me buzzing, I know there is something but since October last year I've been on the road with Napalm and Brujeria and there's probably something on the tip of my tongue, I just can't think of it right now. I don't shut myself off from it that's for sure because it keeps me inspired.
Steve: Yep understood. So do you have a favorite city you like to play or do you just like to come here full stop?
Shane: Well I love coming to Australia, Melbourne has been great. I've had some fun times, I really like Perth in some ways, it reminds me of Birmingham. I don't know why, it's quite multicultural but there is something familiar about it. In general I get a kick out of it, it's a real hybrid, it reminds me of England but then it reminds me of the States but then you have your own thing going on and I'm basic when it comes to food. I love my pies, I love my fish and chips but it's all good…not really (laughs). When I was a drinker I had some great fun down under but doctors orders have said to be a little more careful as an older individual, the beer is off the menu but not the fish and chips.
Steve: Damn party poopers!
Shane: That's it but what are you going to do about it.
Steve: Exactly right. Well it's been great speaking with you today, thanks so much for your time. I really appreciate it and myself and the rest of the Australian fans are looking forward to see you soon.
Shane: Alright man sounds good, take care!
NAPALM DEATH, BRUJERIA, LOCKUP & BLACK RHENO Australia & New Zealand Tour
Oct 4th – Auckland, Kings Arms*
Oct 6th – Hobart, The Goods Shed*
Oct 7th – Adelaide, Fowler's Live (The New Dead Metalfest)
Oct 8th – Perth, Capitol
Oct 10th – Melbourne, Max Watt's
Oct 11th – Sydney, The Factory
Oct 12th – Brisbane, Max Watt's
*BLACK RHENO not performing
TICKETS ON SALE NOW at Soundworks Touring.