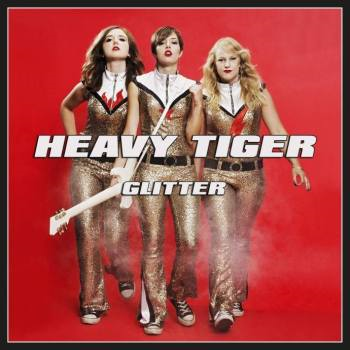 'I Go For the Cheap Ones' isn't as it turns out a song about bargain shopping, what it is however is a nice punk edged slab of rock pop which at two and a half minutes long delivers a brisk and brash introduction to this Swedish three-piece. Heavy Tiger deliver what they call 'high voltage rock 'n' roll' and after listening to their latest offering 'Glitter' it's hard not to be won over by their fiery and uncomplicated take on the music we love.
As an all female band there are of course the obvious comparisons like The Runaways (a fair one) and maybe even Girlschool or Rock Goddess (less so), but in truth there's more of the spirit of the Ramones here and not just in the relative brevity of their compositions. Add to that a dose of Glam and a real knack for a chorus and you're getting the idea.
'Feline Feeling' (not a Cherry Bombz cover and 'Shake Me'(not a Cinderella cover) are both as immediate as the first and just as much fun. There you might imagine the foot might come off the pedal or the quality slip, but it doesn't.
'No Tears in Tokyo' that follows is one of the best here and 'The Only Way is Up' is glorious summery fun. Indeed the only slight miss to these ears is the slower 'Catwalking on a Dog Day Afternoon' which has some nice melodies going on but just fails to fire to the same degree.
It's a minor blip though: 'Downer and a Sunny Day' brings that sense of fun right back and 'Keeper of the Flame' adds a slightly heavier note whilst 'Starshaped Badge and Good Shy' does somewhat evoke the Runaways before the truly wonderful 'Jemma' and the equally uplifting closer 'Devil May Care'.
If you're in the market for fun this is the album. Music to brighten the darkest mood.