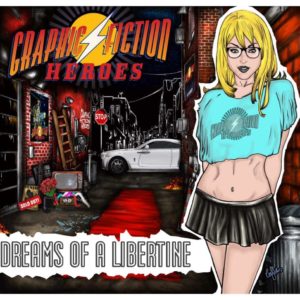 After some very solid releases over the past few years Chris Gibb's Graphic Fiction Heroes may just have released their best material so far. Lead track from the new EP 'The Great Divide' written by Chris and drummer Mat Ferguson might even be my favourite Graphic Fiction Heroes song so far.
For those unfamiliar with the band Graphic Fiction Heroes is essentially a band that purveys classy, very melodic rock; but as a band they aren't afraid of embracing a little diversity and indeed this EP moves from slick AOR to fiery hard rock in the space of its five tracks.
For those that love a finely crafted, beautifully constructed melodic pop rocker then the best here comes first – 'The Great Divide' is a rare treat that just gets better and sweeter with each spin. It's like a crystalline version of Cheap Trick meets Enuff Z'Nuff and more than worthy of you attention.
The meat of the EP, whilst not quite hitting that same high water mark is very close indeed and ranges from the smooth and silky ode to fame 'The Dream' through the almost new wave pop rock feel of 'Our Libertine' and the ode to fatherhood that is 'Bundle of Joy'. It's all as immediate as it is polished and tight as you might expect from these talented musicians.
The band closes the EP with the single they put out last year – 'Vicious Valentine' and its their heaviest statement to date, with Chris spitting out the stuttered chorus over a relentless riff and coming across like the Kiss of the mid to late eighties when Paul Stanley was firmly in control. It's the sort of song that makes you realise that sometimes the best music isn't that far from home after all.
'Dreams Of A Libertine' is another fine release from proudly Western Australian artists that is nothing short of world class.