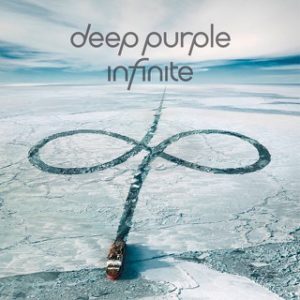 With over 120 million albums sold worldwide, Deep Purple are one of the most loved British Rock bands of all time. Over the years of course they have released more than a handful of classic albums so when a new one comes around there's always the chance, if not of another classic then at least a decent stab with a few real gems. Last time around 'Now What?'  managed just that, so with four years more on the clock there's a certain hope that 'Infinite' can top or at least match that.
Gillan, Paice and Glover have of course have a long history with the band dating back to the 'Mark II' era, though only Paice's tenure is undisrupted, and new guys Steve Morse (only 20 years in the job) and Don Airey (a mere 15 years) are relative newcomers in the album stakes appearing on only 6 and 4 respectively. Ironically it's these two 'new boys' who most 'bring' the vintage sound to 'inFinite'.
The single that preceded the album 'All I Got is You' is quite possibly the best thing here, a track that manages to capture vintage sounds and past glories without sounding either too self-conscious or indulgent, all it really lacks is that killer hook, but it more than passes muster.
The rest of the album is as you might expect is a bit of a mix, though thankfully rather like it's immediate predecessor 'Now What?' its a mix of the good and the very good, with, rather nicely, a lack of any too blatant or obvious filler.
Starting out with the 'quasi-religious computer voice' of 'Time For Bedlam' you're immediately plunged into recognisable 'Purple' territory, its all there from Gillan's distinctive croon to the keyboard and guitar breaks that punctuate this swaggering rocker. It's as good a place as any to start and certainly does capture the sound that many fans will be looking for.
'Hip Boots' which follows is a rather direct bluesy rocker augmented by that distinctive Hammond sound. It's a fun song, nice and direct and like a lot of recent material gives both Airey and Morse plenty of space to move around and get noticed, while Paice and Glover just keep it all going and Gillan adds a country twang to his utterances.
After the glorious 'All I Got It You', 'One Night in Vegas' has an assured, almost funky groove going on. It's one of those stories of a late night in the City of Sin, and rolls beautifully forward as Gillan recounts his tale. It's hard to believe you're half way already by the time 'The Surprising' slips languidly into your speakers, its a dreamy, almost trancelike musing until two minutes in when the keys and drums fire up and we take a progressive 'day trip', that is after Gillan has rhymed 'Tutankhamen'  with 'Blue Horizon'.  Four minutes in we fall back to an almost landscape-like orchestration of sweeping notes and painted keys, before Gillan resumes his tale of nightmare . It's an interesting song and Deep Purple at their ost 'out of time' and progressive.
'Johnny's Band' is more direct and guitar led, the tale of 'Johnny Jones and his band' and their rise to success and fall. There's a real vintage feel about this one  and its bluesy thrust that after the expansive 'The Surprising' is a nice juxtaposition.
The album rounds out with two further originals and a classic cover. 'On Top of the World', is another blues-infused story from Gillan and probably the only song not to really grab me, whilst 'Birds of Prey' has a little of the opener 'Time For Bedlam' about it, there's that swagger, that vintage Deep Purple sound and fine performances by all.
The final word though goes to a cover of the 47 year of 'Roadhouse Blues' by The Doors, it's one of those landmarks songs, one of the greats in Rock's pantheon and also one of those songs that's deceptively simple in structure but so easy to get wrong. Deep Purple play it with a relatively straight bat, and seem to be having a lot of fun doing so. It's a surprisingly great way to round out what has to be Purple's finest hour in many a year.
The press release intriguingly poses questions I'd only vaguely considered: "With inFinite and it's associated The Long Goodbye tour, Deep Purple are approaching a turning point? Are the band about to write the final chapter of their career?" Well if they are it's not a bad final word.