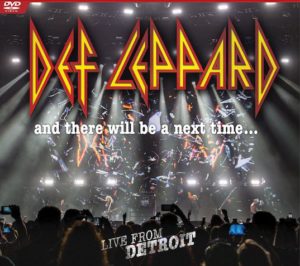 OK so who needs a new Def Leppard live album? OK What about a live DVD?
To be honest the answer to those questions might be very different when you see the show. 'And There Will Be a Next Time' was filmed on July 15, 2016 at the DTE Energy Music Center in Detroit MI and as you might expect features many of their hits. It's a great set, though in fairness it's changed little in the last decade or so and there are no real surprises which always add extra interest for fans.
If you're in it just for the music not the visuals then the 22 songs on 2011's 'Mirror Ball' and 29 on the 'Viva! Hysteria' release from 2013 outweigh the 17 here – the only additions being the less than essential new tracks 'Man Enough' and 'Let's Go' and a rather nice Bowie tribute that sees 'Hysteria' merged with the great man's 'Heroes'. Pretty much though the setlist has changed little in the six years.
Comparing it to recent releases: visually, of course, 'Mirror Ball' only offered a handful of tracks so '…Next Time' as a DVD is more than welcome even if I prefer the 'Viva! Hysteria' setlist. Before that you'd have to go back to 2003 DVD re-release of the 'Historia – Live in the Round in Your Face' release for a full concert video (and the latest of those shows dated back to 1988).
Def Leppard have of course produced other live concert video over the years, and for fans the vintage stuff is probably king, but '…Next Time' is nicely shot and the band is on form AND thankfully you get the full concert as played on that very night, no cuts, no re-sequencing, just as it happened, which wins big points from me.
Funded via Pledgemusic (C'mon these guys are only worth between $50 and $70 million each) general release in February 2017.
Def Leppard, 'And There Will Be a Next Time – Live From Detroit' Track-Listing
Disc 1
1. "Let's Go"
2. "Animal"
3. "Let It Go"
4. "Dangerous"
5. "Foolin'"
6. "Love Bites"
7. "Armaggeddon It"
8. "Rock On"
9. "Man Enough"
Disc 2
1. "Rocket"
2. "Bringin' on the Heartbreak"
3. "Switch 625″
4. Medley: "Hysteria" / "Heroes"
5. "Let's Get Rocked"
6. "Pour Some Sugar on Me"
7. "Rock of Ages"
8. "Photograph"