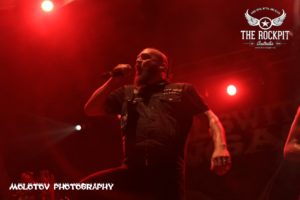 Metalcore veterans returned to Australia this past week and ended a run with the eclectic Fallujah in Perth on Wednesday night. Bringing to the powerhouse show on top of all that was a massive set that included the entire performance of  the "Alive Or Just Breathing" album 15 years after it's release.
Tonight was Perth's turn to witness the juggernaut that is metalcore at it's finest in the form of Killswitch Engage .
First to take to the stage a very short sharp and violent way to kick off tonight's proceeding  was Perth based  brutes Cursed Earth taking tracks from their last two releases. For me the set was way too  short to really guage any form of reaction but what I did see was a band with a ton of venom mixing a hardcore beatdown vibe with chainsaw rhythm section and percussion  that left your head spinning. Overall enjoyable and certainly got the crowd moving.
Next up we had Fallujah, a band I was keen to see! Now I don't often say this as I try and find as many positives in a live set as possible however this set left me feeling deflated and disappointed. Sure they had the "chug / prog" element happening and they bought plenty of fire but for me that's where it stops. Last years opus "Dreamless" left me spellbound, unfortunately tonight on stage it didn't deliver, each song blending into the next one. Maybe next time guys?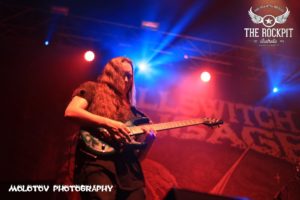 Killswitch Engage hit the stage not long after and straight into the now classic "Alive Or Just Breathing" in celebration of it's 15th anniversary. Has it really been 15 years? This was one of the early metalcore albums that really helped pioneer a whole sub-genre of metal but of course seeing these songs live it's easy to see just how much further the genre has gone since. Now regarded as a fairly old school metal band in comparison, there was no doubting the veterans were on top of their game as they powered their way through not only the entire album but giving fans a second set of both new and older songs from other albums including the most recent "Incarnate".
Frontman Jesse Leach went all out pretty much immediately as he staged dived into the crowd several times, enjoying the embrace that the Perth crowd had to offer. His engagement with the now packed crowd was bar none brilliant and shows why he plays the frontman spot well. The newer songs fitted well with the older material despite being a little underwhelming in comparison to the first half of the set. Nonetheless tracks like "Hate By Design" stood up well and by the time the band hit the tail end of the set, there was nothing left to say but simply enjoy KSE at their best. Let's hope they don't wait this long again for another tour to Australia.
PHOTO GALLERY
Photos by Molotov Enterprises & Photography