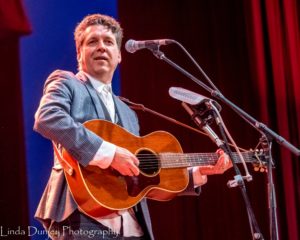 Day Five – the final day, dawned beautiful with still no sign of rain – was this some kind of a record for Byron Bay  Bluesfest?
There were no signs of the party winding down – in fact there seemed to be even more zany outfits and everyone jubilant and upbeat. The street sign leading into Byron Bay township encourages us to "Cheer up, slow down and chill out" and it seemed everyone adopted that transcendent state of mind.
Happily the artists showed no signs of slowing down and all were fully committed right to the end with Peter Noble (Director of of Bluesfest) declaring it "the third best ever"!
Highlights included Billy Bragg and Joe Henry's superb partnering in an acoustic set – playing train songs as a homage to a sadly disappearing era in USA history.
Complete change of pace and one of the hottest of hot tickets were St Paul and the Broken Bones and they didn't disappoint with lead singer Paul Janeway striding and contorting round the stage like a brilliant, fire and brimstone evangelist.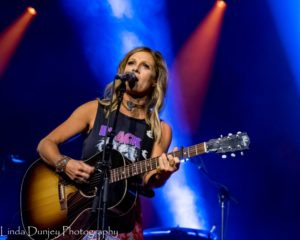 Booker T and the Stax Revue started slow with the maestro himself on Hammond organ and a brief solo from his very talented son on lead guitar. We were promised a Stax records repertoire and the second saw the stage fill up with two wonderful singers and a compelling horn section and the gentler pace gave way to a rip roaring "Respect".
Word got round the festival early on that a phenomenal new talent was on the rise and the name Melody Angel seemed to be on everyone's lips. Some of us who had left it to the last day to see her were feeling some trepidation but she lived up to her hype.  With a warm, engaging presence and terrific crowd rapport – she blasted the roof off with her cover of Lenny Kravitz's "Are You Gonna Go My Way" – her voice and guitar playing superb.
Kasey Chambers and her band did Australia proud and the packed Crossroads tent bore testimony to the love we have for one of our favourite daughters. Her 20th time at Byron Bay Bluesfest, Chambers kicked off with the blues-drenched "Wheelbarrow" – taking no hostages and leaving us in no doubt she's still as fresh now as she was two decades ago.
Finally, the three time Grammy Award winning Zac Brown Band closed off Mojo stage – demonstrating yet again that this versatile band can cross genres from country to rock with equal power and skill, their devoted fans singing along – no doubt their highlight of the festival!
Sad as it was to pack up and leave, I doubt anyone could be wistful for long – Byron Bay Bluesfest 2017 was a cracker of a festival, covering artists from around the world all at the top of their game! The crowd were the best we could have hoped for – watching out for each other and celebrating life, love and music in the best possible way, roll on 2018…
Check out review and photos from Day One | Day Two | Day Three | Day Four
PHOTO GALLERY
Photos by Linda Dunjey Photography