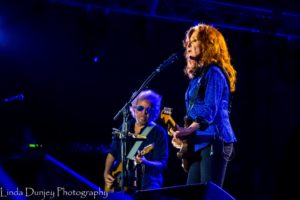 Day Two was rife with Coachella-like reported sightings of various celebrities but the only confirmed one was Jason Momoa, seen strumming a guitar in the Gibson shop and backstage at the Bonnie Raitt set. With all the amazing music talent at Byron Bay, it was seeing the charismatic star that generated the hugest buzz!
Highlights included the irrepressible Jimmy Buffet and band – sporting an infectious smile, a genuine love for his craft and his rapt fans and hit songs that just kept on coming. The high-energy set of the night went to Trombone Shorty & Orleans Avenue with seemingly every punter up on their feet, dancing like it was Mardi Gras on Bourbon Street.
Bonnie Raitt might be one of the grand dames of the blues world but she still plays her slide guitar and sings like a young woman with an old soul. Definitely one of the hottest of hot tickets for the entire festival! Mary J. Blige fans weren't disappointed with her performance and The Lumineers had the twenty-something devotees promising them their first borns.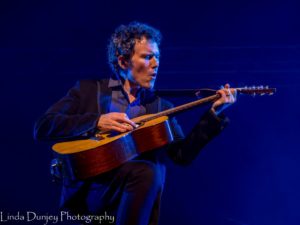 It's only day 2 but already this seems like one of the better experiences at the Bluesfest. Check out all the photos and reviews from all shows – Day One | Day Two | Day Three | Day Four
All 5, 3 & 1 day Festival and Camping tickets are now on sale through Bluesfest.com.au or by phoning the Bluesfest office on 02 6685 8310
PHOTO GALLERY
Photos by Linda Dunjey Photography