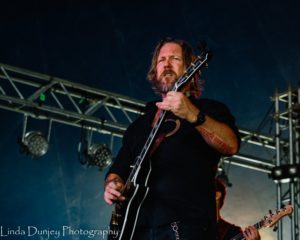 Day One Byron Bay Bluesfest was a masterpiece in Festival organisation with surrounding streets well signposted, shuttle buses ferrying excited crowds from Byron Bay to the nearby Tyagarah Tea Tree farm. Festival staff were smiling, courteous, keeping cars moving efficiently and none of the car parks too far from the festival grounds. Even the queues were kept moving, punters racing in through the gates only to move to island-time within a few minutes of arriving. Stages well set apart and all undercover, no doubt to cope with Byron Bay's notorious rainy patches. Luckily for us, the rain only set in around 11pm, the weather otherwise slightly humid, warm while the sun was up and just perfect at night.
Spoilt for choice (but still enough time between scheduled acts to see at least a part of every artist if you've got your skates on), Devon Allman was one of the first acts to play the Juke Joint and he and his crack band didn't disappoint. Lucy Gallant with two violinists providing backing vocals seduced the slowly growing numbers into Delta tent and, testimony to her fascinating voice and lyrics, not quick to leave Andrew Bird, multi instrumentalist was as amazing live as are his varied recordings. Tight, beautiful set and masterful backing band – it's a shame he's only playing one set at the festival or no doubt, the next set would have a bigger audience!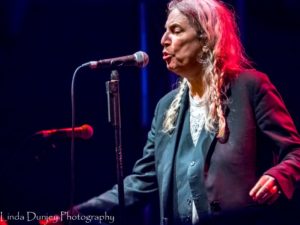 Irish Mythen – solo, fierce, beguiling, quick witted with her banter, a festival favourite with her huge personality, stunning voice and guitar playing. Her cult following were there, singing along with Mythen's encouragement. One of the 'feel-good' acts of the festival, Joan Osborne and her band took on the challenging task of singing an entire set of Bob Dylan songs. Standout song was "Bucket of Rain" – made even more poignant with Osborne's delicate, beautiful interpretation. Corinne Bailey Rae – gorgeous stage presence – big smile, full engagement with the crowd – seems genuine.
Courtney Barnett – possibly one of my favourite sets of Day One for me. Trio with her changing guitars frequently and an incredible rhythm section – driving, visceral, tight, first time I saw dance parties break out all over the tent section. Played songs from different albums – the old favourites having many sing along. Big 20 – 30's something presence (they LOVE her!!) and any older people there to stake a spot for the next act – legendary Patti Smith and her Band, playing "Horses' in its entirety. The moment she came on stage, Bluesfest lost its reputation for friendly chilled, laid back as people off their chairs and started pushing forward. She is LOVED!!!
Check out reviews and photos from all 5 days – Day One | Day Two | Day Three | Day Four
All 5, 3 & 1 day Festival and Camping tickets are now on sale through Bluesfest.com.au or by phoning the Bluesfest office on 02 6685 8310
PHOTO GALLERY
Photos by Linda Dunjey Photography