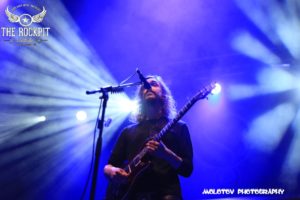 Opeth have been on a roll these last few years  and most recently performing at such prestigious venues as Radio City Music Hall in New York and on this current Australian tour, the Sydney Opera House. Perth caught a glimpse of this current tour at Metro City and while the venue itself isn't exactly the Opera House, it was fit for the kings of prog rock and metal on a windy Saturday night.
Only one support act for the tour, Brisbane's Caligula's Horse who are starting to become almost regular visitors to Perth having been here on their own tour just recently. It was good to see them again as they continue on the back of their successful "Bloom" album. Strongly focused on melodic elements with a mixture of heavy prog parts, the Queenslanders showed Perth why they are a band to be reckoned with which they prove time and time again. Opeth certainly did good in having these guys onboard and the Perth crowd showed their appreciation by the end of their set which also saw a goodbye to their guitarist Zac Greensill who performed his last show with Caligula's Horse.
Of course the focus tonight was Opeth and while it wasn't a sold out show by any means, it was a solid turnout nonetheless. Also another regular to Perth shores in recent years(even if frontman Mikael Akerfeldt apologised for their lack of Perth shows over the years) it was still good to see the Swedish metallers churn out yet another epic performance. Touring on the back of their latest album "Scorceress", surprisingly the setlist comprised of only a few new tracks including the title track which opened the show and "The Wilde Flowers" which showcased the more mellower and proggier side of Opeth that has become prevalent on later albums.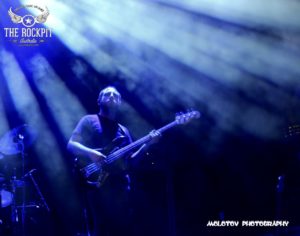 Earlier works got more attention this time around with "My Arms, Your Hearse" and "Still Life" getting some attention which was good to see. Sonically speaking the band were on point, crystal clear sound where every note could be heard. While the band may get criticism for their change in musical direction over the years, there's no disputing how good Opeth sound these days and it translates brilliantly to their live show to the point where their live sound betters the studio recordings.
Akerfeldt seemed particularly talkative tonight, jovial and generally in a humerous mood. Crowd bantering in between constant calls for "Blackwater Park" were met with sarcastic and wry comments from the frontman who seemed super relaxed tonight even in his performances. The ease of which he and the rest of the band played their instruments especially during more complex moments was a sight to see and showed the masive confidence and experience this band has.
"Blackwater Park" finally got it's calling with the first show closer "The Drapery Falls", a mildly melodic but intensely heavy track which got the crowd pumped. But even better was the epic 13 minute "Deliverance" during the encore which even though it was only one song for the final part of the show, it was enough to satisfy any Opeth fan. We don't want to sound greedy by any means but we still can't wait for Opeth's next tour to Australia.
PHOTO GALLERY
Photos by Tammie Parr – Molotov Photography