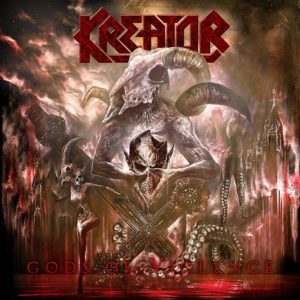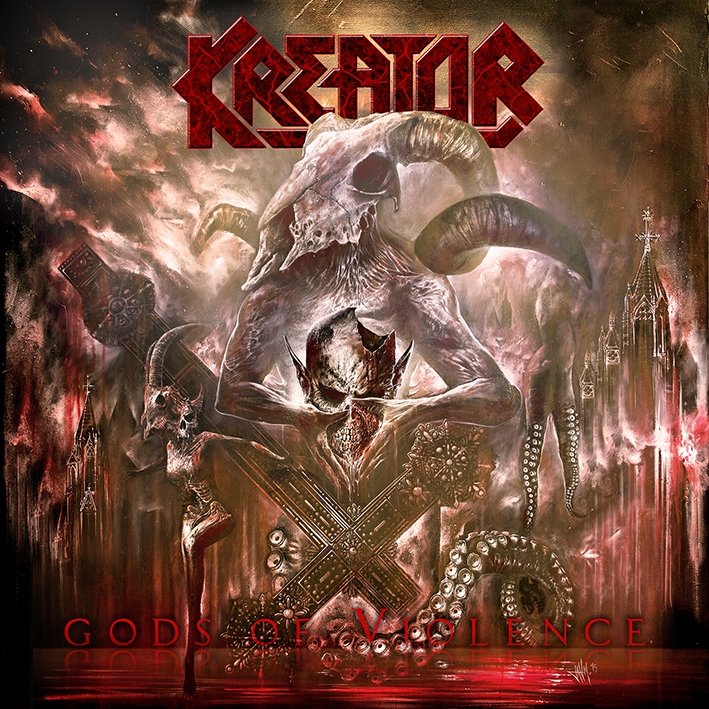 Release Date: January 27th 2017 (Nuclear Blast)
Kreator have been consistently solid in their over 30 plus years as a band. It can be easy to relax and be comfortable in that kind of consistency and just coast through on the same level but Kreator never seem to do that. From the aggressive extreme nature of their early years to their more experimental stuff in the 90's and the recent offerings that showcase a mix of a stronger sense of melody and the furious riffage of their trademark sound combined, Kreator always deliver and their latest album "Gods Of Violence" continues to show why they are one the best in the business.
One thing that is part of that consistency that Kreator always keep is their trademark sound and despite some of the interesting new elements added on this album, there is no mistaking who you are listening to here. From the anthemic "Totalitarian Terror" to the opening number "World War Now" which follows the orchestra led intro "Apocalypticon", you immediately get pulled into Kreator territory. Catchy chorus lines, furious riffs and blistering solos are all over the place but with some cool elements thrown in to make it a bit more interesting. The harp in "Gods Of Violence" performed by a 12 year old musician named Tekla-Li Wadensten is subtle but fits nicely with the almost folk metal like vibe. As is the inclusion of some orchestra work by Italian death metallers Fleshgod Apocalypse on several tracks which simply add to the atmosphere of the tracks rather than overpower or detract from the songs. Kreator make it clear that including different ideas to their traditional style is merely to add to to the song rather than forcing it just because its a cool idea and that's what make it work so well.
"Hail To The Hordes" is one of the highlights on the album with its viking like sound and complete with some Scottish bagpipes just to complete the picture. Again it works for this song and would probably be out of place anywhere else. The dynamics between catchy lyrical parts and melodic harmonies to the thrashier aspects are self evident in most of the songs as they tend to be in Kreator albums in recent years, it's what separates a generic thrash metal album from an album like this. "Lion With Eagle Wings" is another great example of this as is "Side By Side", big singalong stuff that you can headbang to while also admiring the musicianship unfolding.
"Fallen Brother" relies more on its groove as it stomps it's way through a mid tempo beat while the lengthy closer "Death Becomes My Light" drifts in with a softer touch. Gods Of Violence ends as strong as it starts and keeps the listener engaged all the way through. You would probably have to be a Kreator fan to really appreciate the album but as far as metal releases go, this is still one to get into if you still haven't caught onto the German thrashers by now.
TRACKLIST
Apocalypticon
World War Now
Satan Is Real
Totalitarian Terror
Gods Of Violence
Army Of Storms
Hail To The Hordes
Lions With Eagle Wings
Fallen Brother
Side By Side
Death Becomes My Light