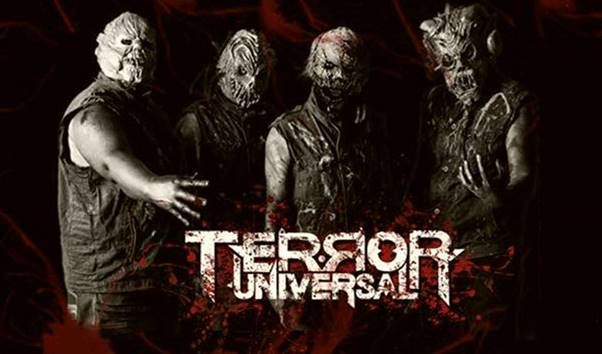 Horror Metal cannibals Terror Universal, who were born in a dark galaxy of terror and feature current and former members of (Machine Head, Ill Nino & Soulfly). Terror Universal have already desecrated Australian soil with an appearance at Soundwave 2015 and the release of the EP 'Reign of Terror' and now they return to Australia with Ill Nino this week plus a new record in October titled "Make Them Bleed". We chat to the drummer known as Massacre about the news songs as well as the tour where he will be doing double duty as the drummer for both bands on the bill.

Massacre: We're doing a tour right now, it's great! We're in Los Angeles today, last show of the US tour and then in a couple of days we head down under to rock the house.
Andrew: Yeah first show on the tour is in Perth so we are really excited to see you guys again.
Massacre: Thank you man. We're excited to be getting back there again, it's been a couple of years when we were there for Soundwave and the welcome that we got was amazing. It's early stages but we're ready to rock with a new record out in October on Friday the 13th and it's called "Make Them Bleed" and we're coming to rock house with Ill Nino this week.
Andrew: As you mentioned, we saw you at Soundwave a couple of years ago and I actually happened to catch you at one of the side shows with Killer Be Killed and you guys put on a really killer show.
Massacre: Thank you so much. We can't wait, we're completely pumped to be there. JUst fucking psyched!
Andrew: And you mentioned the new album coming in October "Make Them Bleed", will we be expecting some news songs at the shows as well?
Massacre: Yeah we did 2 new songs at the live shows and we will be doing the EP obviously that we put out on Sony in Australia and we have about a 30 minute set.
Andrew: So a nice little mix of different stuff then, a bit of old and new material.
Massacre: Yeah we're definitely going to have some new material from the new record but we've been honing our shit on tour here in America, we just did 19 cities in 20 days and then getting out to Australia and about to announce some huge tours next week for the rest of the year and through out February and March 2018 already.
Andrew: So it's going to be a very busy time for Terror Universal then for the next year or so.
Massacre: Yeah it's going to be very busy, I mean I wouldn't have it any other way. I'm abut to play 2 sets every night and I'm not complaining!
Andrew: How do you handle that, playing 2 sets every night?
Massacre: I'm used to it man, I'm very energetic whe it comes to playing drums. We did a European tour where we were doing 30 cities and I was handling double duty there so I would go on stage with Terror Universal and then I would come back and go on stage with Ill Nino right after. So I've played 2 set already so it's pretty crazy. It's something that I'm ready to do and I love to do it, obviously playing music in front of people is a high in itself. I don't do drugs, I don't drink or smoke cigarettes but being in front of a crowd is why I started playing music in the first place. The love of music and playing live.
Andrew: Yeah definitely. Obviously being on stage and playing in front of a big crowd must be a huge adrenaline rush and one of the reasons you do it.
Massacre: Yeah and I have a deep connection in Australia, my wife is Australian and my daughter was born in Australia so Australia is like my second home. I'm in Australia so much, back and forth and we just can't wait to get back there.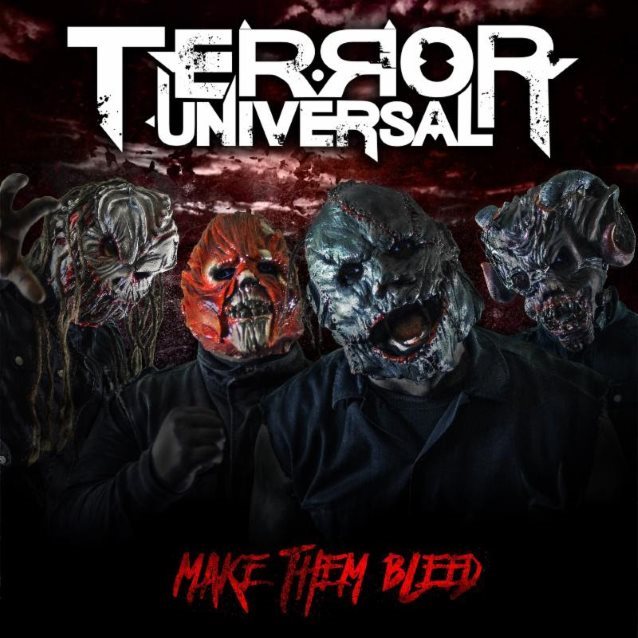 Andrew: Have you been to the west coast of Australia in Perth W.A.?
Massacre: Yeah I've played Perth on a couple of shows with Static-X and Ill Nino did a co-headline in 2006 and we played Perth at 2 Soundwave Festivals. So yeah Perth is beautiful, a very chilled place but so far so good. But yeah I have a strong connection to Australia, my wife is from there so we used to go every year for Christmas with her family.
Andrew: Very cool! What's your favorite part of Australia then?
Massacre: My wife is from the Gold Coast and it's very beautiful there, the beaches are really nice and I sometimes call it Miami on steroids but it's cleaner.
Andrew: [laughs] I've never been to Miami but I have heard the Gold Coast is similar to Florida.
Massacre: Yeah it's definitely closer to Florida but it's cleaner. It's so weird, Miami you'll drive half a mile from the beach and it's dirty but in Australia it's pretty clean there man even though kids will play all night long [laughs]. You're more likely to see a fucking beer bottle than rubbish on the floor. You Australians know how to fucking party, that's for sure! I don't drink or smoke so my wife does all the drinking for me. I'll put her drink head to head to any sailor.
Andrew: [laughs] Australians certainly love to party that's for sure and especially a lot of drinking.
Massacre: Yeah but back to the record, "Make Them Bleed" will be out on October 13th and we are fucking beyond pumped. We worked our balls off on this record and it's a super strong record, our singer Plague shines through out the record and it's fucking heavy as fuck. It's also very melodic in a couple of the tracks but the majority of it is pretty brutal.
Andrew: What were some of the things you really wanted to achieve with this album that you maybe missed out or didn't do on your EP?
Massacre: We just wanted to put a full length out and hit all the continents. Other bands move up the ranks quite fast playing 3 continents in 3 months without a record out and without tour support and something which is pretty impossible to do these days. But everything has gone well and thank god we are now getting to release this record, we signed with Minus Head Records and have been amazing. This guy, the CEO Brad Hardie has an amazing view of what needs to be done to break a band so it's going to be a pretty big record.
Andrew: Looking forward to hearing these new songs then. Do you have any last words for the Aussie fans before you come down here?
Massacre: Just get ready man and keep the energy up as we have 2 great bands back to back. Terror Universal is ready to tear some ass and Ill Nino is getting ready to play the classic "Revolution Revolucion" release, that record is nostalgia and the amount of energy on that record is also pretty amazing. Everybody who is out there, remember that there is a strong possibility that the band will not tour together again after this, it's a one time only thing because our record schedules will not meet. Ill Nino is coming out with another record next year and we'll be on the road promoting the Terror Universal record so I don't think we'll be on the road together any time soon.
Andrew: Even more incentive to come down to the show then!
Massacre: Thank you brother! Thank you for having us, really appreciate it and we will see you when we get to Australia.
ILL NIÑO & TERROR UNIVERSAL Tour Dates
Wednesday 2 August – Capitol, PERTH – 18+
Thursday 3 August – Fowlers Live, ADELAIDE – 18+
Friday 4 August – Metro Theatre, SYDNEY – 18+
Saturday 5 August – Max Watts, MELBOURNE – 18+
Sunday 6 August – The Triffid, BRISBANE – 18+
Tickets from Destroy All Lines