A roundup of the latest news from Nuclear Blast including updates from Tankard, Light The Torch, Devilment, Eluveitte, Kataklysm, Rage and Korpliklaani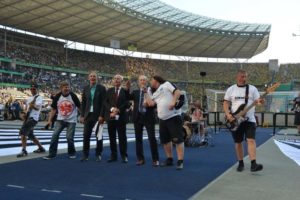 Two months ago, the German thrash metal legends TANKARD played the Eintracht Frankfurt club anthem 'Schwarz-weiß wie Schnee' in front of over 30.000 enthusiastic Frankfurt supporters, a short time before the kick-off of the German cup final between Eintracht Frankfurt and Borussia Dortmund at Berlin's Olympic Stadium.
Today, the band announces a new version of the EP "Schwarz-Weiß wie Schnee" (which has been completely sold out for over ten years). The EP will be released on CD and "7 Vinyl" on 15 September 2017 via Nuclear Blast.
The Eintracht anthem, which has been played in the stadium for ten years before every home game of Eintracht Frankfurt, has now been completely re-recorded by the band. The thrashers were supported by Henni Nachtsheim (Badesalz), Ande Werner (Mundstuhl) and Roy Hammer (Roy Hammer & Die Pralinées), who can be heard in the backing choir.
———————————————-
The creativity and productivity of the German heavy metal trio RAGE seems to have no limits. Only 14 months after the successful »The Devil Strikes Again« neckbreaker, RAGE deliver their new, 23rd studio album called »Seasons Of The Black«, which will be released today!
To celebrate the album release, RAGE reveal their brandnew video clip for the title track 'Seasons Of The Black', which you can watch here
»Seasons Of The Black« was recorded in February/March 2017 at Megafon Studios (Burscheid, Germany) and at Soundchaser Studios (Zandhoven, Belgium). Its production was handled by RAGE, whilst the renowned Dan Swanö (MARDUK, OPETH, KATATONIA) took care of mix and mastering at Unisound Studios (Grefrath, Germany).
———————————————-
Eight years after melodic death/folk metal masters ELUVEITIE released their acoustic album »Evocation I«, the Swiss musicians have stored their electronic instruments again in the rehearsal room. »Evocation II – Pantheon« will be released August 18th via Nuclear Blast Records.
Today, the band has released a video clip and second digital single "Lvgvs".
Chrigel Glanzmann states:
"We're excited to present to you the second single and video clip of our upcoming acoustic album: LVGVS! Lugus is one of the most enigmatic, fascinating and mystical deities in the Celtic pantheon and occupies an important place in "EVOCATION II"!
And so is our brand new single: "Lvgvs" it comes with playful lightness, but is still very deep at the same time, full of mysticism, eclectic details, deepness and emotion.
And furthermore we're also happy to have our good, old buddy Netta Skog from Ensiferum and her Accordion on board in this song!"
———————————————-
Just one month to go until KORPIKLAANI's first ever live Blu-ray/DVD+2CD package titled »Live at Masters of Rock« will see the light of day on August 25th through Nuclear Blast. Last week the band's folk section revealed interesting info on the special show they played at Masters of Rock in 2016 (Disc 1), but today it's about time for the Folk Metal Superstars to unveil another musical appetizer from this upcoming live release.
After hearing the title of the package, it's easy to conclude that it was recorded at the identically named festival in Vizovice, Czech Republic. But there's even more to be excited about, this release doesn't just include KORPIKLAANI's show from 2016, it even has a second full show from 2014 as bonus feature. The 2016 concert features guest appearances from Tero Hyväluoma (additional fiddler) as well as Toni Perttula (additional accordion player), Sami's identical twin brother. Mixing of »Live at Masters of Rock« was handled by front man Jonne Järvelä himself, mastering was done by Svante Forsbäck (RAMMSTEIN etc.)
———————————————-
Canadian hyperblasters, KATAKLYSM, will celebrate their 25th band anniversary in 2017 and embark on a big headline tour through Europe in autumn. In support of these upcoming shows, the band now releases their lyric video to their mindblowing classic 'Blood Of The Swans' off the re-release of »Shadows & Dust«/»Serenity In Fire« in one box.
The band already released a lyric Video of the classic song 'Illuminati' few weeks ago here
On their special shows in October, KATAKLYSM will bring their classic records »Shadows & Dust« and »Serenity In Fire« on European stages in their entirety!