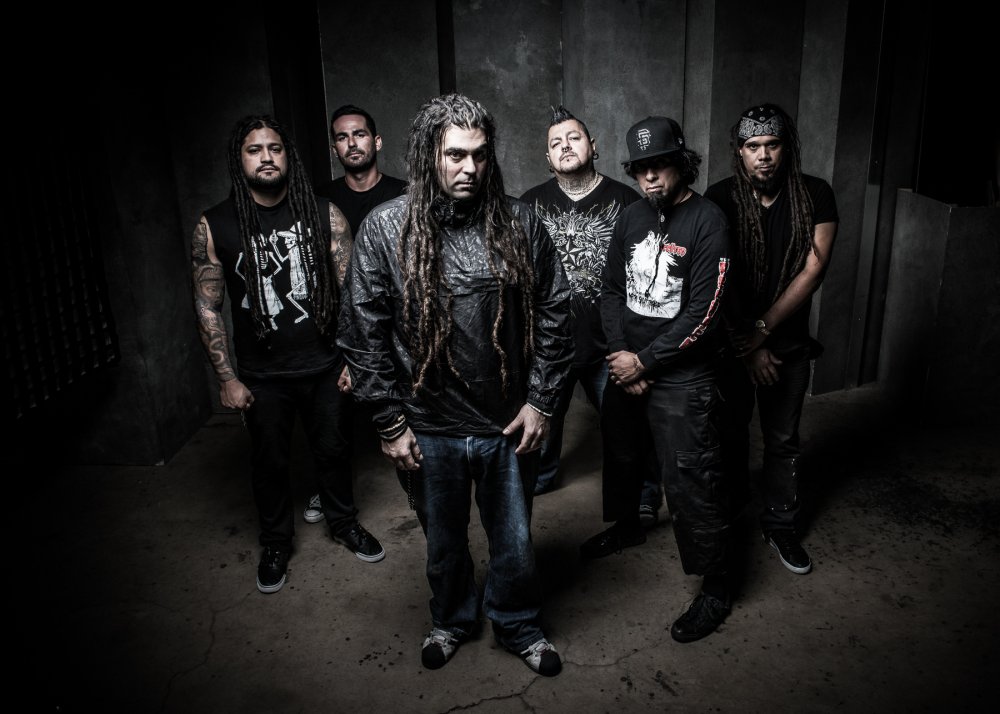 Hailing from New Jersey/New York, ILL NIÑO are a not just a meteorological event, they are a musical force to be reckoned with. Their revered album 'Revolution Revolución' marked what was the beginning for these founding fathers of Latin metal. ILL NIÑO offered something different, they brought a flair and ethnicity to the metal scene. With their jaw dropping percussive artillery and Flamenco guitar tones, the band meshed the Latino passion with an aggressive metal assault. Their live show is where they shine: driving, energetic and animated, not many bands can match them. The fans are what pushes ILL NIÑO to continue to dominate after a decade.
Ill Nino guitarist Ahrue Luster has had a busy morning taking care of press for the upcoming Australian tour but quickly mentions at the top of our interview today that the band have just returned from a European tour where the entire "Revolution Revolución" album was performed in it's entirety, something which will also be brought to their run of shows in Australia in August. But for a sneak peak, we had to ask how it went.
"It was probably the best tour we've done in Europe in 10 years", says Ahrue. "We were  pretty close to 10 sold out shows and if it wasn't sold out it was packed so it was a good tour. The fans were loving it, we were having a great time so it was just an overall great experience".
Steve: It certainly doesn't feel like 15 years since the first album came out. I remember buying it vividly and putting it on and being absolutely blown away, something similar to Sepultura "Roots".
Ahrue: Thanks dude!
Steve: So to bring this album down to Australia must feel awesome!
Ahrue: We are very excited to come to Australia, it's one of our favourite places to play. Truthfully if I had the the choice I would live there, it's just such a beautiful awesome country!
Steve: Well the invitation is always open to come down!
Ahrue: Thanks a lot! I'd say we've been there 5 times and before that I was there with Machine Head and I was also there with "Terror Universal" so I've been there about 7 times and I just love it! It's very cool to bring the first record [there], I wasn't actually on the first Il Nino record but I do feel like I was a part of it because at that time I was in Machine Head and we were touring the "Supercharger" album and we did a tour in the States called the 'Road Rage' tour. It was the very first one with Fear Factory Machine Head, Ill Nino and Chimaira. That's when I first met the Ill Nino guys and we hit it off pretty good.  Machine Head usually did one big European tour every year and it was time to do that tour so one of the things we did was grab an up and coming band to be the main support band and so as we were discussing which bands to bring, I said how about that Ill Nino band and Rob and Adam looked at each other and looked at me and said, Yeah that's a good idea!' So we brought them to Europe for the first time while I was in Machine Head and it was actually the tour that broke the band in Europe. So even though I didn't play on the first record I partially feel responsible for the success of the first record because I told Machine Head to bring Ill Nino to Europe and even on that tour I just loved hanging out with the guys. I was a big fan of the music so it just seemed like a natural thing that after I left Machine Head to join Ill Nino.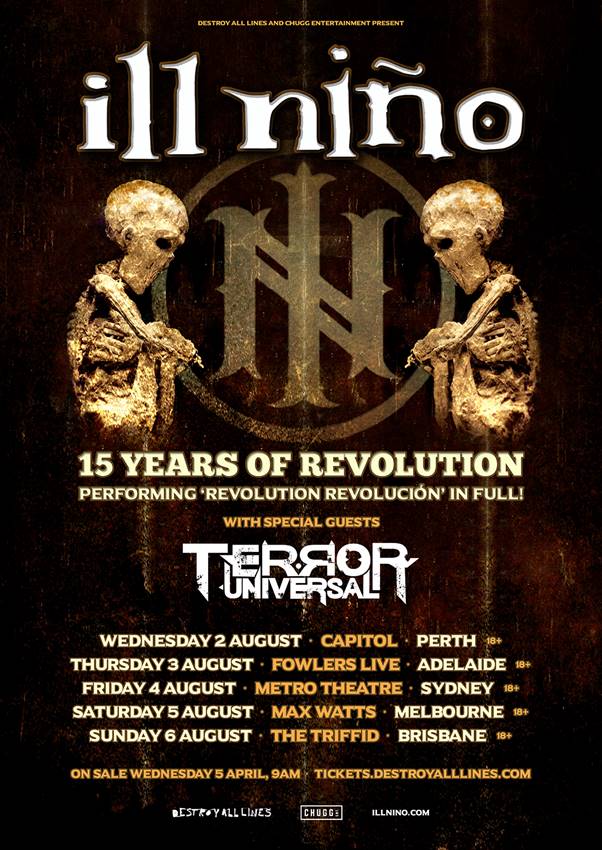 Steve: Sure and you coming into the band would have felt like stepping into a comfortable pair of shoes because you already knew the guys and what they were about and what they wanted?
Ahrue: Yep exactly, that's how it felt. You know, every once in a while it feels like an old sock (laughs).
Steve: (Laughs) I thinks most bands can say that! So is Ill Nino writing any new material at the moment or are you just concentrating on this tour and then take it from there?
Ahrue: Well the first thing that happens with a new record is we kind of talk about the direction that we want to take it and we have discussions about how we want to record it, who we'd like to record with and things like that and on this tour we were kind of in those talks. It's kind of like the seed has been planted for the new record even though no music has been written yet.
Steve: So it's basically in it's infancy.
Ahrue: Yep
Steve: So theoretically speaking when your walking around and you get an idea for a riff, what's your method? Do have a pen and paper to jot down the idea?
Ahrue: It's like fishing, you never know when a good idea is going to come up. Sometimes I'll sit down for an entire day to write music and nothing comes out and then sometimes I'll be driving around and something pops into my head so then if you don't have your net out you're not going to catch any fish. So you've got to not only have your net out when you are writing and catching the riffs when your writing them but even if your half asleep and you're about to fall asleep and all of a sudden a really cool idea pops in your head and your like, 'Oh I'll just remember it tomorrow', you might lose it forever. So you've got to jump up, grab your guitar and get it down.
Steve: Cool so for yourself do you have some form of recording equipment you can jump on? How do you do it?
Ahrue: Well actually when I'm not touring I'm a producer, so I have a production company called Illustrious Productions. I just finished the new Motorgrater record that should be coming out in a few months and I've done a couple of other bands, Arise In Chaos and a couple of other bands which is on EMP which is Dave Ellefson's from Megadeth's label. So it's very comfortable for me to record my idea's once they come to my mind, so I use Superior Drummer which I usually get them down that way then present them to the band.
Steve: So we've spoken about the latest tour coming to Australia, do you have any favourite tracks from the first album or do you like the whole thing?
Ahrue: Well the thing is we've been playing about 6 songs from the record for the entire time I've been in the band which has been about 13 years. So the other songs that we don't play live are pretty fun for me to play since they're kind of new to me to play live, like the title track and and some of the other songs towards the end of the record especially "With You", those are fun to play.
Steve: So in the industry whether it be a musician or producer, is there anyone you'd still really like to work with?
Ahrue: I have been lucky enough to work with the producers that I idolise but there are some producers I'd love to work with including Kane and Kevin Churko. I love their work and David Bendeth, I love his work as well. I have never worked with either but I would love the opportunity to do so with any of those guys.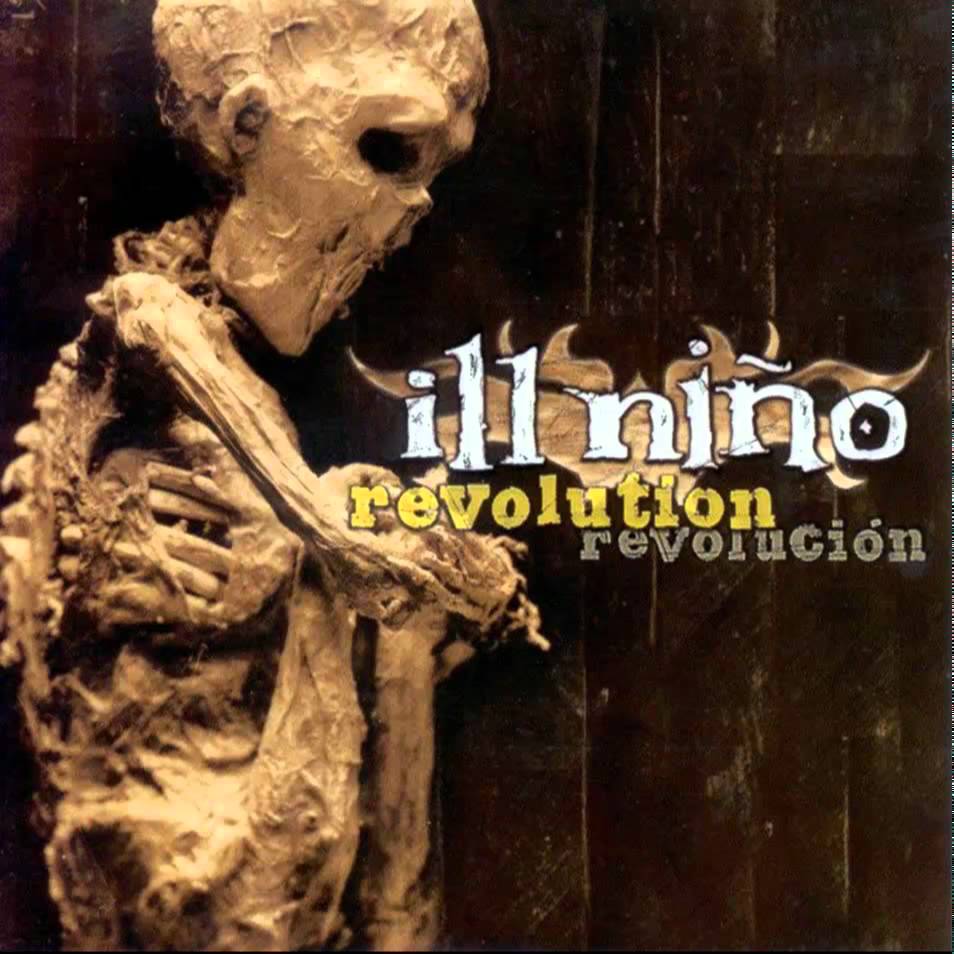 Steve: So if I was to come to your house right now, what's playing on your Ipod/stereo?
Ahrue: I was just listening to Architects but I'm always looking for new bands, new sounds. We have a pregame ritual on tour where we listen to different bands and one of the big hits was a band from Australia Thy Art Is Murder.
Steve: Oh say say no more. Great band, great guys, they kill it!
Ahrue: (laughs) Yeah that was one of our favourite albums that we'd listen to before going on stage every night of the tour.
Steve: Awesome, home grown and very proud (Laughs). So just finally I'd like to know where do you drawn inspiration from? I guess broadly speaking is it the world around you, books or obviously other music? What's your take on that?
Ahrue: I mean mostly I listen to a lot of music to get inspiration. New music and old music as well as music that's in completely different genre's and different styles. I mean I love metal, I've been listening to it my entire life but the thing that keeps metal alive is when people start bringing other influences into it. I listen to a really wide variety of music including tons of metal, I love really extreme stuff to really mellow stuff but not only that I get influenced from any random source. I try and keep open to anything that speaks to me, I mean I might hear a weird noise coming from my faucet and then something else with it and then all of a sudden it starts turning into a beat for me (laughs).
Steve: Great stuff! Well it's been awesome talking you this morning, I really appreciate your time. Good luck with everything that's going on and Australia is definitely hanging out to see you guys in August ,can't wait!
Ahrue: For sure, we can't wait either. And like I said earlier, it's one of our favourite places to play. Take care, see you all soon!
ILL NIÑO & TERROR UNIVERSAL Tour Dates
Wednesday 2 August – Capitol, PERTH – 18+
Thursday 3 August – Fowlers Live, ADELAIDE – 18+
Friday 4 August – Metro Theatre, SYDNEY – 18+
Saturday 5 August – Max Watts, MELBOURNE – 18+
Sunday 6 August – The Triffid, BRISBANE – 18+
Tickets from Destroy All Lines