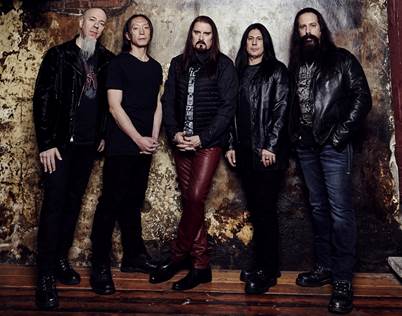 Progressive metal giants Dream Theater return to Australia this September as part of their "Images, Words & Beyond" world tour celebrating 25 years since the release of their groundbreaking album "Images & Words". After releasing the conceptual based "The Astonishing" album last year (see our chat with Jordan here) the band return to their roots to perform the 1992 classic album in it's entirety so we catch up with Jordan again to discuss the anniversary and the future plans for Dream Theater.
Andrew: So how's things with Dream Theater at the moment? Are you on the road still?
Jordan: No we are off the road, we are enjoying a little bit of a break before we start in September and have some crazy touring up until the holidays.
Andrew: "The Astonishing" came out over a year ago so how has the tour been going so far?
Jordan: Well The Astonishing tour was a lot of fun, it was great and then we switched gears to do the Images, Words & Beyond so that's our latest which we are now taking to you guys next!
Andrew: Yeah it's exciting to see you coming to Australia again with only 2 exclusive shows which is celebrating 25 years of this epic album. Obviously you were not part of the album initially when it first came out but how does the band collectively feel about it being 25 years?
Jordan: Well yeah I wasn't even born when that album came out.
Andrew: [laughs].
Jordan: [laughs] Some of our fans weren't which is actually pretty funny, but everybody is really excited to be out there doing this. This is something that we just love, we're a bunch of guys who are very dedicated to our instruments and dedicated to each other and to our families and we take what we do very seriously and we put a lot of value on what we have developed over the years and "Images & Words" is kind of a statement of that if you will. So it's an honour and a privilege to be able to come all around the world and play this album. Now yeah I wasn't there when it was written but of course this album is very important to me personally because it's the first Dream Theater album that I ever heard and when I heard it I really loved it, it was great and it inspired me to want to be with the guys. Although that's a whole different story in how that finally came together but I was really impressed with the album. At this point I feel that these songs have become a part of me as well and I've played them so many times that I live and breathe them and I respect them because when I go back to play any of these songs that were written before I became part of the group, I do it with a level of respect for the music and for the fans who have been listening to it for so many years and I try to do the best I can in reproducing the sounds that I think are really important to the experience. So yeah we're really excited to do it and we're super excited to come to Oz because it's been a while and we enjoy coming there although it's very far away from where we live but it's a thrill and it's exciting and we have a lot of friends and a lot of fans who support us there, so yeah we're coming!
Andrew: There's a lot of songs on this album that have become staples so to speak like "Pull Me Under" and "Metropolis", Now that you have played them so many times, have they changed a lot as far as playing them live is concerned?
Jordan: Not really, I mean we play them as we've played them for years. We have not changed the arrangements of the songs, as a keyboard player and as a synthesist I'm always tweaking or making things a little better or finding little ways to up my game or whatever. But in general I would say we are remaining true to the songs and doing the best we can to do them live.
Andrew: Is that something you generally do to all the songs you have ever created as well? To keep true to how you initially recorded them?
Jordan: Yeah pretty much. Again with me as the keyboardist is that I have to decide…like I can do certain things in the studio and then when it comes time to play it live, there's other things I can and cannot do. So I try to take advantage of the positive things I can offer live and make it not only comfortable for people to listen to the album a bunch of times but maybe bring it to not only a different experience but maybe bring it to an even higher experience as possible.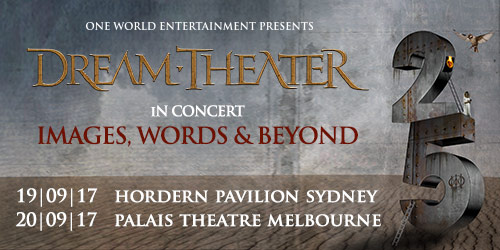 Andrew: Do you have any personal favorites from the album that you enjoy playing live more than any of the other songs?
Jordan: I like them all, I realy enjoy them in different ways. The ballads like doing something like "Surrounded" is really a special thing for me because it's a chance for me to really connect with James (Labrie) the singer and to really breathe and to be super melodic and expressive and shift into my Jordan encompaness role that we do which is beautiful when he sings them melodically. But then there are really proggy stuff too which is super fun like "Metropolis" and the challenging parts of that, it's all a really good time. Actually the Sax solo on "Another Day" I play on the Roli Seaboard which is very fun for me as well and then I also get a chance to use my own iPad instrument which is called GeoShred where I do double guitar lines in "Under A Glass Moon" with John (Petrucci). So "Images & Words" is choc full of good times, it's a thrill.
Andrew: Yeah and I think as far as many of the hardcore Dream Theater fans, they kind of look at this particular album that really brought Dream Theater into the mainstream in a way and it also took people by surprise because not many progressive bands make it through to that next level which this album broke barriers in many ways especially at that time I guess.
Jordan: Yeah I totally agree. It was the first time people were exposed to such a strong level to progressive metal, especially with those kind of chops which I know when I heard it that's how it struck me. But the great thing was Dream Theater had that breakthrough single with "Pull Me Under" and it was played all around the world and then they immediately followed it up with touring and were able to start building this foundation of what I basically came into and continued to build up with the "Scenes From A Memory" days. I tell people the reason Dream Theater has this long career is because we have really worked it, we keep working and putting out albums and staying true to what we do and being supported by amazing people all around us and that's what creates this entity that has now been around for so many years as Dream Theater.
Andrew: Now aside from the album, will there be any other songs you will be playing live in Australia?
Jordan: Yes we are doing the Images, Words & Beyond show basically, there might be couple of little changes, we still have a little time before we get there. But people can expect to hear a lot of what already has been broadcast already on the internet that we play on this tour.
Andrew: OK and as far as The Images & Words tour, will you be doing anything special like a live DVD release or anything like that at all?
Jordan: We haven't really planned a DVD around this run so I wouldn't say that this is going to happen but I think what we're planning on doing that's special is a whole lot of touring, really hitting all continents all over the world with this.
Andrew: So what do you have planned after this run? Looking to get back into the studio or do another tour?
Jordan: Well personally after we are done with this, I was invited to be an artist in residence at Stanford University in California next year. So I'm going to go there and do that for a little while and also work on my software company with Wizdom Music and then certainly Dream Theater will embark on another album after that.
Andrew: Well we are looking forward to that. "The Astonishing" was such a massive undertaking so in a kind of funny way, do you feel any pressure to kind of top that because it was such an epic concept?
Jordan: Yeah well "The Asonishing" was a very specific kind of an album, it was a concept album with a story. We definitely are going to move away from that right now, we're not planning on making another concept album. The idea is to go back and do something a little closer to the roots of the band and so I always feel a little pressure only in the sense that you gotta get that creative flow going again. It usually flows pretty easily once we're in it but as an artist I think it's always the hardest or scariest to get started on something but I have faith that we will get into it, put something really great together. That's one of the great things about being in a group is we really support each other, if I come up with a musical idea then I know that John Petrucci will be able to be maybe inspired from it and it goes back and forth and we end up being able to write all this music.
Andrew: Do you think that "Images & Words" will somewhat, because you are playing it on tour, be inspiration for the next album?
Jordan: Oh yeah definitely and you know what will be inspiration is going back to the roots and playing something that is such a fan favorite and kind of understanding what it is and what makes that work and that particular blend of melody and progressive rock and metal. So that's nice to go back and understand.
Andrew: Yeah definitely. So before we see you in Australia in September, do you have any last words or messages for the Aussie fans?
Jordan: It's been a while since we've been there and it's a really important market to come to. Over the years of being there I've really learned to appreciate it and enjoy the various cities that I've been to and that we've been to and I look forward to coming back and spending some time, walking around, seeing some friends and just getting a chance of a nice burst of Australian energy.
Dream Theater Images, Words and Beyond 25th Anniversary Tour
19th Sept, Hordern Pavilion, Sydney
20th Sept, Palais Theatre, Melbourne