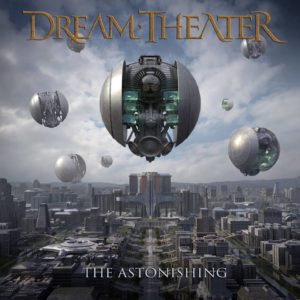 In a time when music fans have shorter attention spans and are heading more and more towards single tracks and digital downloads of random songs, Dream Theater does the complete opposite and creates an album that goes against everything that todays listener prefers. Which is a 2 plus hour concept album that follows a storyline that ironically (or not), is about the idea of machines creating music. As a band who doesn't exactly follow the trends of mainstream music standards anyway, "The Astonishing" is not exactly a surprise or even new to prog fans, but what fans will really care about is whether or not this album is actually any good.

I must say that despite knowing that Dream Theater decided to do another concept album, receiving my copy of the album and looking through the tracklist was to say the least, a little overwhelming. Spread over 2 Acts on 2 discs, which is somewhat reminiscent of the brilliant "Six Degrees Of Inner Turbulence", I honestly did not know where to start. To go through all 34 songs would be much too time consuming and as people will find out, also a little redundant. I will at least start with the flaws before going into more positive territory and then let you decide after that whether the album is worth your attention. Firstly, it's not the heaviest Dream Theater album put out, in fact it's the most mellow that I have ever heard from the band yet. If you love the mellow stuff, great! You will be in for a treat but as someone who always loved the more intricate and technical wizardry of Dream Theater as well as the more heavier counterparts and even the standard rock stuff, this album fails as a well balanced record. It's simply way too soft in far too many parts of the album to really sink your teeth into. There are many instances where it potentially leads to something more interesting but eventually leads to nowhere, tracks like "A Better Life", "Ravenskill" and "Begin Again" are examples of this kind of disappointment.
As a whole, Act I is the worst case of this where the majority of songs feels like it should have more to it. There are moments in part 1 like the more classic prog styles of "Dystopian Overture" and the more sophisticated "Lord Nafaryus" which sounds very rock oper-ish, which to their credit, is exactly what they were going for on this album. Because that essentially is what "The Astonishing" is, it's a rock opera but I must say, the "opera" part seems to have gotten the most attention here.
On a more positive note though, Act II is a stronger set of songs despite the mellower side still sitting strong through-out this part of the album. Instrumental opener "2285 Entr'acte" leads the way here before heading into the blissfully fantastic "Moment Of Betrayal" where the more intricate side of Dream Theater comes into play and finally we see a bit of magic from Mike Magini on the drums. This one fans will love with it's odd time signatures and all the real good stuff that this band pulls off. "The Path Divides" continues on with a bit more of this kind of stuff a few tracks later, a heavier chunky riff that leads into a little jazzy number. "The Walking Shadow" has a more lively feel and is one of the more slightly heavier tracks while "My Last Farewell" starts out mellow but gets into more harder and interesting stuff as the song goes on.
Most of the songs are shorter in length than your usual Dream Theater album but given the number of tracks which are sporadically intertwined with sci-fi, futuristic sounding interludes that give the feeling of a movie, it's understandable. But despite there being a concept storyline to follow, some of the real shorter ones that clock in at barely a minute or 2 seem almost like filler material at times and while the band made it work brilliantly on "Scenes From A Memory", this time around it seemed forced in some way. Whatever thinking there was behind it and regardless of whether they are revelant to the story being told in the songs, I doubt many people will be picking these tracks out for future listens. But that brings me to my next point in that this album is really not an album full of individual songs, it appears to be well and truly an album in every sense of the word. A lot of the songs don't come across as something I would pick out and listen to on it's own but as an album as a whole, it does all connect each other in some way nicely, for the most part. I still say some of those shorter tracks are unnecessary but maybe given a few more listens as a whole and it may come across as needed in the end.
"The Astonishing" as a whole is well performed and executed by these tremendous musicians and for the first time, it sounds like Jordan Rudess's talent has been fully utilised to the full extent. Most Dream Theater albums are usually driven by either John Petrucci's dazzling guitar solos and riffs or, previously on older albums before his departure, Mike Portnoy's brilliant drum work. But here, Jordan rules the roost and deservedly so as he is truly a talented musician, anyone who has seen him perform live will testify to that. The use of keyboards, pianos and other worldly sounds emanating from his array of instruments is heard all over the place on every track on almost every moment, whether it's mellow piano parts or dazzling high energy synthesizers or whatever effects are used to create a Dystopian vibe from the album. Petrucci still has some great work on here but clearly has taken a shared role with Rudess on another level.
It's a difficult album to really describe without using words like epic, grand and film score at the same time but that essentially is how this album sounds and is what the intention was behind it. I don't believe there are any outstanding tracks individually here but as a collective, it is Dream Theater's most ambitious and challenging effort yet.
TRACKLIST
Act I
Descent Of The NOMACS
Dystopian Overture
The Gift Of Music
The Answer
A Better Life
Lord Nafaryus
A Savior In The Square
When Your Time Has Come
Act Of Faythe
Three Days
The Hovering Sojourn
Brother, Can You Hear Me?
A Life Left Behind
Ravenskill
Chosen
A Tempting Offer
Digital Discord
The X Aspect
A New Beginning
The Road To Revolution
Act II
2285 Entr'acte
Moment Of Betrayal
Heaven's Cove
Begin Again
The Path That Divides
Machine Chatter
The Walking Shadow
My Last Farewell
Losing Faythe
Whispers In The Wind
Hymn Of A Thousand Voices
Our New World
Power Down
Astonishing