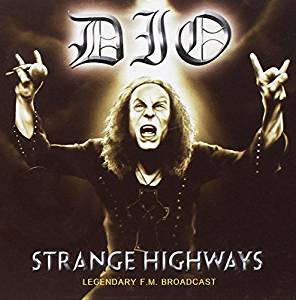 1. Jesus, Mary and the Holy Ghost |   2. Strange Highways |   3. Don't Talk to Strangers |   4. Pain/Guitar Solo/Pain |   5. Mob Rules |   6. Holy Diver |   7. Man On the Silver Mountain |   8. Drum Solo |   9. Heaven and Hell |   10. Evilution |   11. Give Her the Gun |   12. Stand Up and Shout |   13. The Last in Line |   14. Rainbow in the Dark |   15. We Rock |   16. Here's to You
Yes, it's another DIO live CD that has been released from the vaults but this one is different. Following his reunion with BLACK SABBATH, RONNIE returned to his solo career taking VINNY APPICE (who had occupied the drum stool in SABBATH) with him.
STRANGE HIGHWAYS was the first DIO album since LOCK UP THE WOLVES in  1990 and was the first one not to crack the US top 100. Vastly different from his earlier albums, STRANGE HIGHWAYS  was a more doom-laden affair. The two best tracks from the album kick off this CD. Brutal and heavy, these two could have come from SABBATH'S DEHUMANIZER. TRACY G certainly gives a very good impression of TONY IOMMI here and he even gives the early stuff extra punch.
Keyboards and a burst of feedback herald the classic HOLY DIVER and the classic MAN ON THE SILVER MOUNTAIN has been given an extra gear: heavier and a bit quicker in tempo with some wonderfully subtle keyboards.
I've never been the biggest fan of drum solos in my opinion they are only useful live for a chance to get a pint or go to the toilet. VINNY APPICE may be a notch or two above most drummers but even he can't stop this dragging until TRACY G. adds some guitars to it.
HEAVEN AND HELL, one of the greatest tracks ever released and 6 minutes and 59 seconds of perfection is reduced to  just over 90 seconds here, which is a shame. Two newer tracks follow: EVILUTION Is very doom and GIVE HER THE GUN has a very DON'T TALK TO STRANGERS like intro. GIVE HER THE GUN though is a gem of a track, disturbing subject matter, but given an interesting twist in the lyrics.
The final run-in and we are back on familiar ground. Every track from his first handful of albums are something
special and these versions don't change that .The music is loud, the keyboards add to the songs and the backing vocals, when used, work perfectly. It's a strange choice to end the show with a new track and barring a brief sing-a-long with the crowd it doesn't really work well here.
It is interesting to hear a DIO CD from a different tour and with different musicians with him. TRACY G split
fans opinions ever since he joined RONNIE but he adds a heaviness to proceedings and has the occasional TONY IOMMI touch about him. This era of DIO was a much heavier animal than first time around and while this works, an occasional respite  would have been better.
I remember not being overly keen on this album when it came out (ANGRY MACHINES, when it would appear in 1996, was even worse) but after listening to this, it is worth another listen. Getting VINNY APPICE to join him and the addition of the talented JEFF  PILSON was a masterstroke. On record, DIO would have to wait until 2000 with the release of the magnificent MAGICA to hit the heights again but live, they were something special. THAT voice never faltered. Well worth a listen.
DIO: Ronnie James Dio – Vocals | Tracy G. – Guitars | Jeff Pilson – Bass/Keyboards | Vinny Appice – Drums