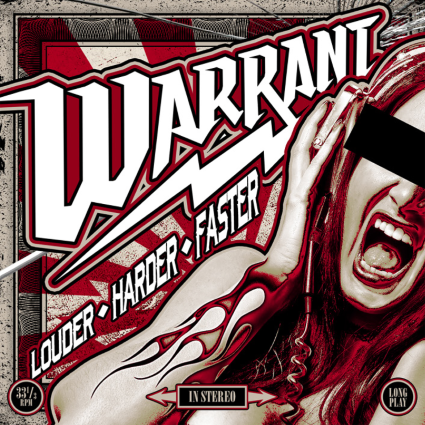 Warrant are one of those bands from the 80's Hard Rock scene who hold so many memories for listeners that any new album is bound to cause a stir. Their last outing, and first with new vocalist Robert Mason (Lynch Mob, Cry of Love and the wonderful Big Cock), the aptly titled 'Rockaholic' followed the rather patchy 'Born Again' and brought the band back to the eyes and ears of the rocking public, but that was an incredible 6 years ago now and three months after the sad passing of original vocalist Jani Lane.
Opening with the title track you could argue that Warrant put their best feet forward – it's a no-nonsense rocker that really captures the mood of the album dominated by muscular Hard Rock with a smattering of trademark ballads and wonderful production by Jeff Pilson.
'Devil Dancer' that follows might already be familiar to some, having been streamed by the band earlier this month, it takes it down a notch and ups the guitar to create a real 'grower' that just gets better with each listen. 'Perfect' that follows takes the listener in a slicker more melodic direction, it's more subdued but has a great groove and some great vocals by Mason.
'Only Broken Heart' the first song released just over a month ago now is what it's all about: driving, almost Thin Lizzy-like hard rock that just soars in the way only bands of this vintage can. It's fun, it's fast and it's super catchy. 'U In My Life' the first ballad brings with it a nice breather, piano and voice-led it almost sounds like something Oasis would do  and I'm still not entirely sold.
Whilst I'm pondering that, 'Music Man' takes us on a blues-infused side road, full of acoustic flourishes before sparking into life with a huge groove- its a song that really hits hard with some killer guitar and Mason's soulful vocal dominating. It's one I keep going back to.
Over half way in 'Faded' gets back to that trademark Warrant sound with it's mid-tempo pace, wailing guitar and uber-catchy chorus; 'New Rebellion' lays it on even thicker and faster and tighter than ever: original members, Erik Turner, Jerry Dixon, Joey Allen, and Steven Sweet lay down a killer groove and Mason ices the cake. It's a damn cool song, maybe one of the best here.
The intriguingly-titled 'Big Sandy' cranks it up again, layers some cool backing vocals and lays out a tale of debauchery before 'Choose Your Fate' again gets back to the band's Hard Rocking roots with gritty verses topped with soaring choruses and some wicked guitar. It's hard to believe it's almost over: 'Let It Go' the final track takes us out with the second and better demi-ballad. It's a song shot through with summer sun, a sing-along chorus and a real vintage feel. It might even be the best song here.
If like us you've been waiting 6 long years for another taste of Warrant it's hard to think you'll be disappointed. 'Louder Harder Faster" is an album true to the band's roots, it may not be quite as immediate as 'Rockaholic' but it's a real grower: catchy, very melodic, and one that will have you coming back again and again.
WARRANT
Robert Mason – lead vocals
Joey Allen – lead and rhythm guitar
Erik Turner – rhythm and lead guitar
Jerry Dixon – bass guitar
Steven Sweet – drums

US Tour Dates
Apr 27  – Hampton Beach Casino Ballroom, Hampton Beach, NH
Apr 28 – Merriweather Post Pavilion, Columbia, MD
May 12 – PBR Rock Bar @ Miracle Mile Shops, Las Vegas, NV
Nov 1 – T-Mobile Arena, Toshiba Plaza Stage, Las Vegas, NV