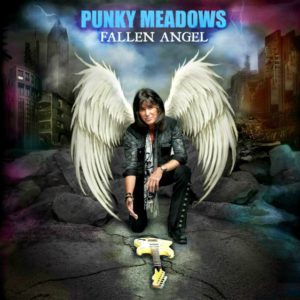 Back in the day I was a huge Angel fan. For a band that had managed to grow from Pomp Rock's shining light to eventually capture a sound as gloriously melodic as they had on 'Sinful' and then sort of fall away it was a crime. I always expected the members to go onto so much more but it's one of the great mysteries of Rock that none of them did aside from Greg Giuffria who formed 'House of Lords' and stayed two albums before forming his self-titled band 'Giuffria' then slipping into producing and out of the limelight.
None of the others made it that far and so it was a huge surprise when in the space of a few months we got not only an album by vocalist Frank Dimino, but also this album by guitarist Punky Meadows. The real crime is that after so many years these albums are both so damned good.
While the intro track 'Descent' may give you a brief glimpse of Angel 'The Price You Pay' which follows is just a straight ahead AOR song, big on melody that seems contemporary with Angel but a world apart from their sound. It's 'Straight Shooter' that captures some of that late vintage Angel charm and really sets off Meadow's warm soloing it's a great track and the first of many.
As well as Meadows though the other real star of the album is vocalist Chandler Mogel (Outloud, Khaos) who does a great job setting these songs alight. In an album of such scope there's harder stuff too on the riffy 'Loaded Gun'; 'Lost and Lonely' and 'The Price You Pay' which sit well as straight rockers, but the main theme here is variety, or shades of rock.
'Breathless and Jaded' is a cool catchy power pop tour de force, while 'I Wanna be Your Drug' has an even greater appeal, and in the hands of a young band might even bother the charts (hey I'm not jaded!). Elsewhere we get a country flavour to 'Summertime Love'; a great power ballad in 'Leavin' Tonight' which won't leave my head and the late eighties anthem 'Shake Shake'.
The deluxe edition even adds two additional tracks – 'They Don't Like My Ways' a real rocker and an alternate version of 'Lost and Lonely' with Frank Dimino on vocals, it's a nice touch that should have made the album proper even if just for the memories.
Throughout Meadows shows he's not lost it as a guitarist and the showcase closer – an instrumental 'Fallen Angel' says it all. Like Dimino's album you wonder why oh why with all this real class both men left it so long to remind us why they mattered and still do.
TRACKLIST
Descent
The Price You Pay
Straight Shooter
Breathless and Jaded
Loaded Gun
Lost and Lonely
Home Wrecker
I Wanna Be Your Drug
Leavin Tonight
Searchin
Something Strange
Shadow Man
Shake Shake
Summertime Love
Fallen Angel