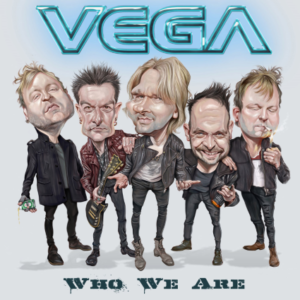 If you love classy Modern Melodic Hard Rock replete with huge harmonies and big hooks, searing guitars and soaring vocals then it will be hard to go past VEGA – one of the new bands currently vying for the crown.
'Who We Are' their fourth outing after the mighty fine calling card 'Kiss of Life' back in 2010 and two fine albums since perhaps best of all being 2014's 'Stereo Messiah' (which really saw the band find their vice) might be their best yet.
The album opens with the stunning red hot rocker 'Explode' and the equally classy and catchy, if more subdued 'We Got It All' before 'Every Little Monster' takes the mood down a notch for some classy AOR. It's a pretty damned good way to open.
When you do AOR right it can be extremely satisfying and Vega seems to not only know how to do that but also how to look back at the ingredients and make them sing. Nick Workman has a voice made for this and the harmonies that surround his voice just elevate it further, it's not harmed either by the wonderful twin guitar, those fiery solos, or the solid backline. These guys certainly know their stuff.
They mix it beautifully too for every tear-dripping ballad 'Nothing is Forever' there's a fired up 'White Flag' and every time you think you've heard the best another better song comes along.
Pick of the bunch for us have to be the opener 'Explode' and the assured AOR gem 'If Not You' but it's a close race with the classy mid-tempo 'Ignite' and the confident and rich 'Saving Grace' coming so close along with 'Every Little Monster'. This one is easy to recommend.