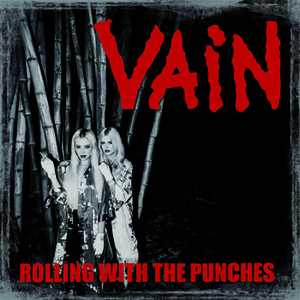 It started with a Pledge Music campaign launched on 27th January 2016 with an album to be released on April 14th that year… Less than three months for a new Vain album! Sweet! I signed up there and then having seen the band just the previous year live at the Whiskey in L.A. – my first time in years. After all that time they didn't seem to have aged at all, sonically they still more than had it, it was like 1989 all over again!
After numerous delays, promises of bonus tracks prior to release and ever changing release dates here we finally are. The only question of course is has it been worth the wait? The teasing and all the delays might have put off some but not us – this record is the natural successor to 'No Respect' one of may Top 10 albums of all time…
'Rolling With the Punches' the title track that opens the album of the same name is probably all that it will take for the majority of the patient pledgers to throw their hands up and exclaim that 'all is forgiven'. It's vintage Vain – a slow burn start, simmering sexuality and guitar that perfectly drives the song along. It's not an 'out and out' rocker but it manages to encapsulate all that made Vain so very special. It underlines what fans always knew – these realy were the big band out the 80's that slipped under the radar.
'Deliver the Passion' starts out with that trademark Vain sound and an impassioned vocal and Vain's Bolan-like phrasing and jumps right at you and sticks on your back all the way home, its a tour de force – fresh, immediate and so full of energy you fear for the speakers.
'Long Gone' is even more robust with a traditional hard rocking riff and enticing solo before Davy's vocals come in and take over – sonically we're in classic 'No Respect' territory and whilst the song weaves and uses dynamics beautifully there's an almost Punky undertone at play that gives the track some real edge.
'Dark City' takes the intensity down a notch, its a moodier piece that gives a little respite and hangs on a sing along chorus before the even moodier 'Bury Some Pain', which simmers and sizzles as Davy recounts his tale. After the initial bluster the darker side of Vain shines through, and indeed 'It's a Long Goodbye' continues in a similar vein, slower, deliberate and made to move and sway to these are three songs that Vain fans will savour, especially 'It's a Long Goodbye' which just shades its partners if only for the staggering spot-on solo.
Interestingly we stay 'down' for a fourth time: 'Inside Out' takes us up a notch in dynamics if not quite getting us out of the mid paced mid album  mood Vain has created, its another solid song but by now I'm hankering for that top gear that we began with. It comes with 'Don't Let It Happen to You' which cranks it up with a blast of guitar and drums and proceeds to build to a crescendo that is vintage Vain.
'Sacrifice' starts with studio chat and a simple guitar line and voice, before exploding majestically out of the speakers as Davy snarls the opening lines and the guitars wail. It's a song that mirrors that fiery opening dynamic as does the shimmering, staccato 'Show Your Love' which leads us into a fine finale.
The inclusion of 'Sip the Wine' as a bonus track is the only real confusion on the Pledge release. It's a song we heard a rough mix of back in May 2016, but as the delays mounted Davy advised that the be would be 'mixing a special bonus track' only for pledgers, well it's that exact track. The good news is that its one of the best songs on the album, a groovy rocker with a funky feel and nice thrust – just the sort of song I'd have loved others to have on the presumably forthcoming non-pledge release.
How good is 'Rolling With the Punches'? Well it's very, very good indeed. Dare I say it Vain's second best record in a career that has seen some fine releases. There's no doubting the quality here, though if I have one quibble its the sequencing – the pile up of slower numbers mid album, but that's like splitting already split hairs. Was it worth the wait? You betcha!