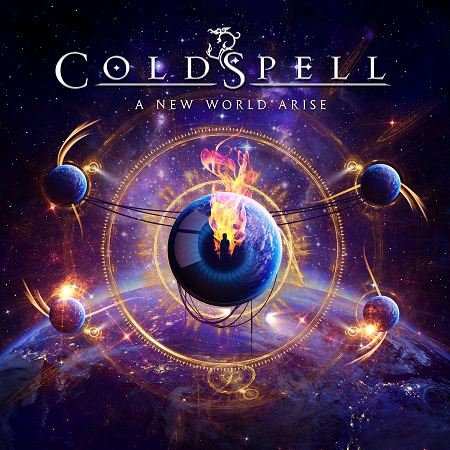 In all the years of The Rockpit I don't think I've ever been more certain that I've just listened to the album of the year. What makes that statement even more surprising to me is that all three of ColdSpell's previous releases have blown me away and much as I wrack my brain I can't think of more than a handful of bands who have managed to maintain such high standards let alone surpass them with each release.
2009's 'Infinite Stargaze' started it all with a debut that I seriously rank up there with the very best debut albums; 2011's 'Out From the Cold' managed to recapture that glorious opening and add to it much like a snowball from Sweden's frozen North from where the band hail. That album contains a track called 'Time' that still after 6 years I can barely go a week without playing.
When 2013's 'Frozen Paradise' appeared I seriously wondered how they could Top those first two releases,but they simply did with an album that seemed destined to take them to the major leagues. I said at the time:
"ColdSpell knows instinctively how to capture that intangible essence of Classic Rock and make it their own. 'Frozen Paradise' takes what us lucky listeners have heard before and amplifies it to the maximum helping add to a legacy and fine body of work that in years to come I'm sure will be looked back on as one of the high-points not only of the genre but of Hard Rock in general, and that is something that very few bands, especially post-1980's have ever managed to attain".
I stand by those words. And now with the same sort of anticipation I used to have as a kid when a new release would hit the shelves and I'd wait eagerly outside the Record Store (look it up youngsters) I find myself pushing 'play' on album number four with the same sort of eagerness I used to rip off the shrink-wrap.
The first thing that hits you about album number four is how 'huge' it sounds – produced beautifully by guitarist Michael Larsson and again mixed by Tommy Hansen, if anything the overall effect is even sharper,more fluent and unbelievably even more dynamic than previous outings. From the opening strains of 'Forevermore' you know this is going to sound close to perfection. The best thing of course is that the songs themselves are so crisp, so soulful and so well constructed that they would stand up on their own if recorded live in a tin shed!
After the fiery melodic anthem of 'Forevermore' it's the shredding riffs and soaring vocals of first video 'Call of the Wild' which tells you in no uncertain terms that this is going to be an album to rival the magnificent 'Frozen Paradise'. And over the space of the next ten songs the quality never drops for a moment.
At every turn you're greeted with songs that simply take your breath away, songs that are so well crafted you'd swear that you'd heard them before, but realise that those songs you hear echoes of were never this good. There's a certain thrust to songs like 'It Hurt's' that have a pinch of Blue Murder but are entirely 'ColdSpell'.
'Miles Away' has a beautiful urgency and timeless refrain; 'Signs' starts delicately with an acoustic flourish before the sweeping guitars flood in and embellish a mid-tempo tour de force. And all that leads you to the countrified hard rocking stomp and power of 'Love Me Like You Do' which just sweeps you up in the electric storm. And in those three songs you have the genius of this album, beautifully honed hard rock, but with such variety and endless promise.
The rest of the album is just as compelling: 'This is Me' kicks off the second half with a simmering and relentless swagger; whilst 'Get to the Top' rides on of my favourite riffs here, sports a wonderful solo and ear-worm of a refrain; and 'Wait Til Tomorrow' simply has you reeling as to what these guys have achieved in just four albums.
The album may well end even stronger than it began – 'Losin' My Mind' has a hard edged groove that's as stunningly direct as it is powerful; and the album is rounded out by 'Just one Night' which sees Michael Larson wailing with the best of them and some of the most soulful and powerful vocals from the wonderful Niclas Svedentorp, who has really put a huge stamp on this album, showing a remarkable balance of power, passion and melody. The final word though goes to the longest song here at just over six minutes: 'A New World Arise' which combines power, passion and draws all of the strings together.
This is a great album – all rockers, no ballads, great melodies, giant riffs and as far as I'm concerned the best of ColdSpell so far…
If you love beautifully crafted Classic Hard Rock this is an album that you will cherish, it's not merely a great take on the music of the past, it's music that stands up against anything that's come before and is its equal.  If you love Rainbow, Deep Purple, Whitesnake  and you don't know ColdSpell then all I can say is shame on you,and when you do finally listen, you'll be putting them in that same exulted company.
I thought when I heard the new H.E.A.T. album 'Into the Great Unknown' last month (released on the same day as ColdSpell) that I'd heard the album of the year, but now it seems I had only heard the runner up. I can't imagine hearing a better album than this in 2017 which means that HE.A.T.'s Jona Tee, who lends keys to three tracks here, looks set to end up with the accolade of playing on the two best albums of 2017 and two that will stand out as highlights of a decade that's seen precious few classics and now we get two at once!