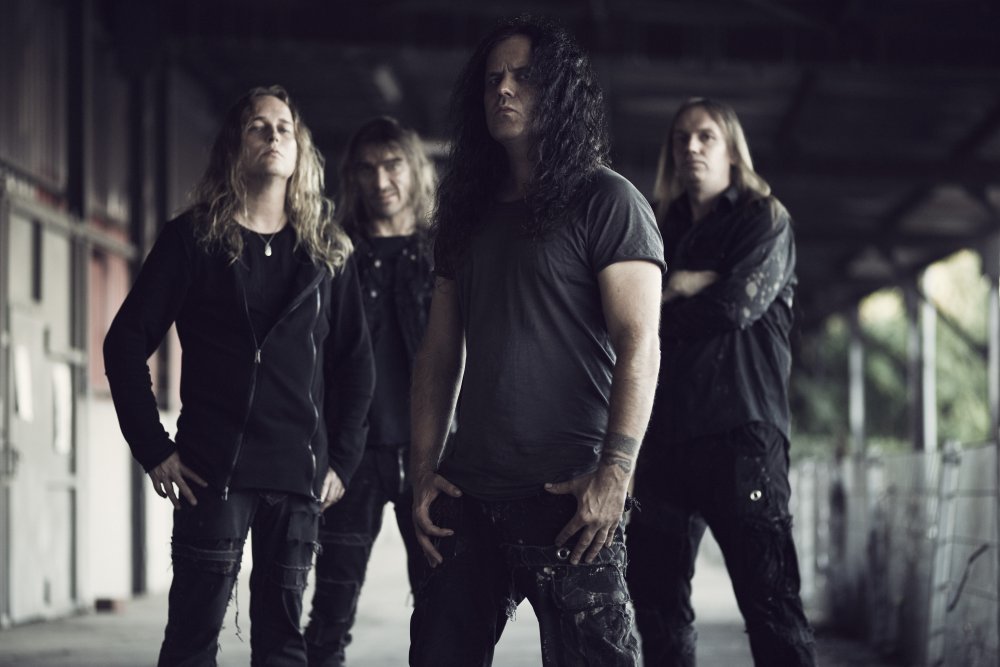 Three years after they successfully pulverized the nation, Kreator are back to thrash and grind Australian audiences into sheer bloodlusting ecstasy. Touring in support of the band's latest opus "Gods Of Violence", Australian audiences will also see death metal legends Vader teaming up for an extreme metal onslaught. We catch up with Mille again after previously discussing the album earlier this year, to discuss the tour, the new album and more.

Steve: Hi Mille how's everything going with Kreator at the moment?
Mille: Pretty busy doing a lot of festivals and shows at the moment. I'm in the middle of touring but right now I'm at home.
Steve: Awesome! So I see that you guys are coming to Australia shortly with the mighty Vader, that must be exciting?
Mille: Oh yeah we've been friends with Vader forever, we've been touring with them many many times and they are always fun guys to be around. They are a great band, we love Vader and think it's a nice package.
Steve: Certainly you're bringing the heavy factor times one thousand!
Mille: Exactly, I'm really excited as we've done many tours in Australia but never toured with Vader. Last time we came with Death Angel, this time it's more like a European package which makes it more exciting for the people so yeah it's going to be good.
Steve: I know that last time you spoke with one of my colleagues at The Rockpit as the Death Angel tour had been announced or was about to be announced, how did you find it the last time you were here?
Mille: The Australian audience is just amazing, the scene is very strong. It's hard for us to get to Australia because you're on the other side of the world but once we get there it's just exciting. Many metal heads, a strong scene, strong community, the shows are always top notch, very professional and the people we are working with are total pro's. So yeah really looking forward to it!
Steve: So are we definitely! So "Gods of Violence" has been out for a while now, do you have any favourite tracks you like to play and how has the reaction been with the audience's?
Mille: We have a luxury problem with that album because we choose five or six songs for the live set list and there is at least three other songs we would love to play but in order to keep people happy we need to play older stuff. We would like to play more of the new songs but it's not possible in an hour and a half set, the songs we do play are the title track "Satan's Real" and three others. The fans really love those songs and I mean the album has charted number one in Germany and worldwide, it was a big success but to me the real success is we come, we play a live show and our fans like the old stuff as much as they like the new stuff and that to me is like wow! It blows my mind and as soon as we start "Gods of Violence" the pit goes crazy and the other songs work just as well so we couldn't be more satisfied with the result of the new record.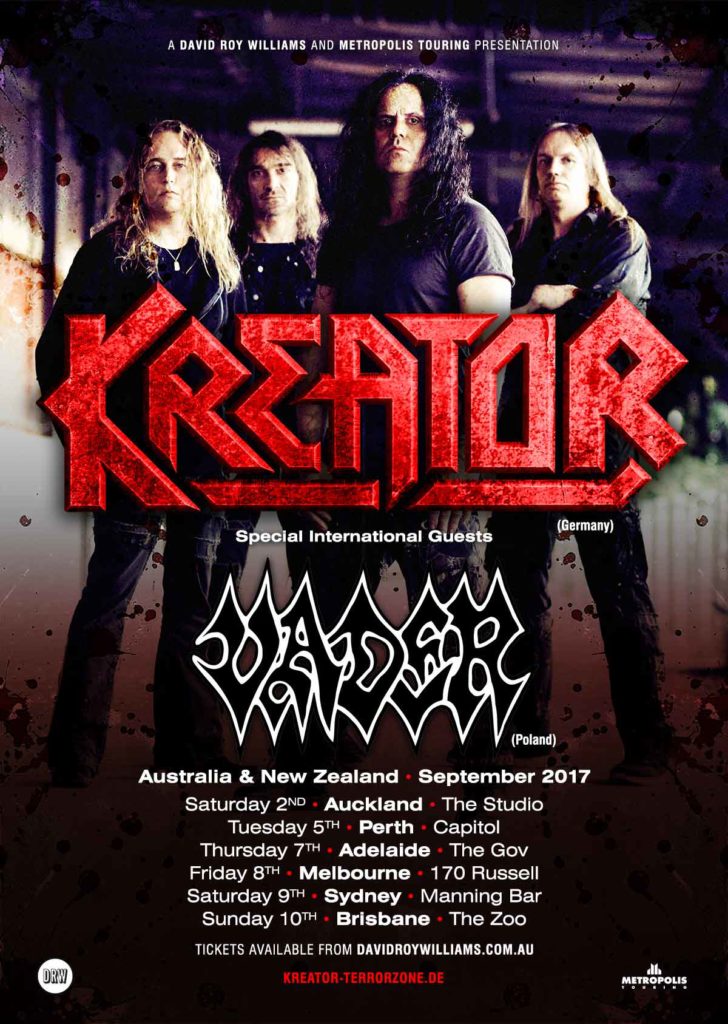 Steve: Just recently I was watching an interview you had done and you were saying that you can't keep the audience 100 percent happy all of the time and that you want to get out and destroy as much as possible and obviously enjoy yourself.
Mille: Absolutely and a band that has fourteen albums out has to make compromises in the setlist. There is always the odd guy that comes up after the show and says, 'Why didn't you play my favorite song, this and that' and I'm like 'sorry! we'll try next time'. We are playing thrash metal and it's very intense music and I think a thrash metal concert that is longer then one and a half hours, it's very hard to take so we'd rather play short but sweet and in this ninety minutes you get a lot of energy.
Steve: Sure understood. So that leads me into my next question, given that you have fourteen albums under your belt what do you think has kept Kreator going? I mean obviously you have weeks and months of endless touring but what has kept you going for so long?
Mille: It's the music and just a real passion for the music, nothing else. I don't think I'd still be doing it if I didn't enjoy it, I love playing music. I feel gifted, I feel privileged to go out and play my own music that I wrote myself and other people react to it and I don't take that for granted and I think that is the reason why we keep going because to us it's still exciting. It always feels different, it always feels fresh, every concert is a new experience.
Steve: And I'm sure the reaction from the crowd never gets dull?
Mille: No absolutely not. Like I said every time is a new experience, the club is different, the town is different, it's always fun. It makes up for the long waits at airports and the travel and sometimes the circumstances are not ideal travelling wise but the concert is like, 'Man this is why we are doing it'.
Steve: Absolutely I agree. So how do you think the thrash scene has changed over the years? Technology has evolved with production etc but how do you think it has changed if anything?
Mille: I think we are in the second, almost third generation of thrash metal fans and I think we have the old school bands that get a kick in the butt from the younger bands every time they release albums. There's such great records coming out from bands half our age that are just mind blowing so every time I get to listen to some of those albums I'm like, 'Ok wait until we do our new record!' (laughs). But it's a nice friendly competition in a sense of we are enjoying the ride instead of being jealous of other bands, if anything it motivates us to come up with cool stuff. It's always been like that, people tend to say there was this massive fight among the bands in the early days but it's never been like that. There is always friendly competition where you get inspired, you get motivated if some other band makes a great album and that is still the case so to answer your question, I don't think the thrash scene has changed too much. Like I said there were a lot of younger people that came into the picture, it's a better organised scene these days where as in the past it was more chaotic. I mean the 80's were pretty chaotic when it came to organizing a show.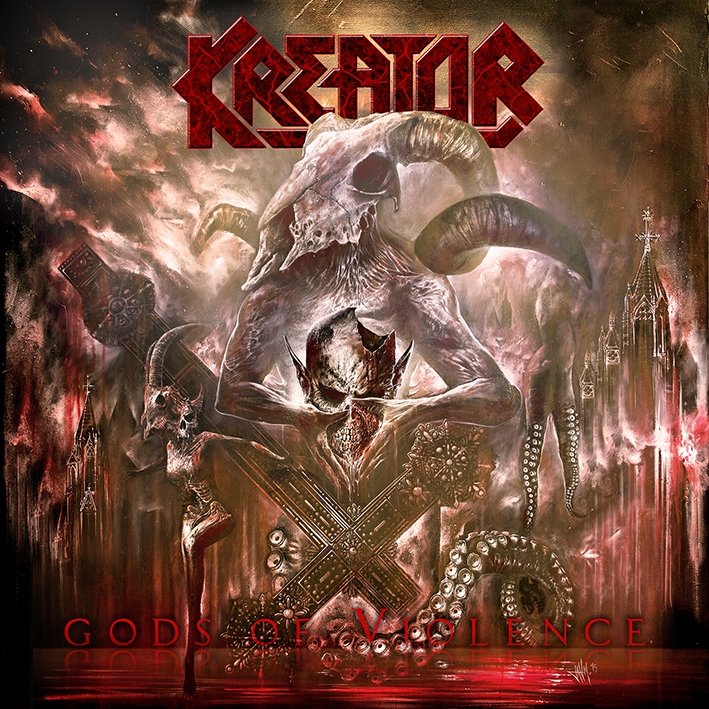 Steve: So what I take from that is that you're very impressed with the up and coming crop of thrash bands that are around and like you said, it gives people a good kick in the ass!
Mille: Absolutely and that's what keeps the scene alive. We have the camaraderie, we have this global metal family, everyone is friends. Of course there are those few asshole people out there "my band is better than yours", blah blah blah and they are jealous but it's a very small amount. Most people are cool, like I said it's like a global community of people that think alike and have the same passion for music, almost like a science and take this music to the next level to try and make the concerts more exciting and try and make the experience deeper and stronger and more energetic.
Steve: So in terms of this tour, when you guys hit our shores can the fans expect a mixed bag in terms of the live set?
Mille: Yes there will be songs from "Endless Pain" right up to "Gods of Violence". Like I said earlier, we have a luxury problem when it comes to choosing a setlist so there will be a lot old songs and a lot of new songs, a nice mix of songs.
Steve: Just quickly on that, how do you pick your setlist? Do you put it into a hat and draw it out or rotate it or what's the deal?
Mille: (laughs) No I think it's common sense really, I mean there are the fan favourites that we have to play. For example last year we played "Betrayer" so this year we will swap it out and play "Extreme Aggression". Some songs just need to be played and we treat the setlist as a song if you understand what I mean, we start off, we go down a little bit, the setlist has it's own dynamic and that's how we pick the songs. Then once we find a nice setlist, like we are playing one long song because the songs kind of connect with each other and tell a story.
Steve: Very cool! Well I'm definitely looking forward to the show, it's been great chatting with you today. I really appreciate your time, maybe we can catch up for a beer at the show?
Mille: All right man, sounds good. See you very soon!
Kreator
With special guests Vader
Saturday 2nd September – Auckland, The Studio
Tuesday 5th September – Perth, Capitol
Thursday 7th September – Adelaide, The Gov
Friday 8th September – Melbourne, 170 Russell
Saturday 9th September – Sydney, Manning Bar
Sunday 10th September – Brisbane, The Zoo
Tickets From: http://davidroywilliams.com/tours/kreator-with-vader