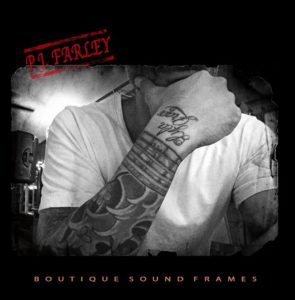 Best known as the bass player from Trixter, P.J Farley sure hasn't been one to sit around in between Trixter stints, content with reflecting on that bands success during the early 90's. With the band RA, he's released nigh on 8 albums of top notch alternative metal, throw in the mighty 40Ft Ringo album with Trixter guitarist Steve Brown, 4 years touring with Lita Ford, plus numerous other musical adventures.  With over a decade of writing songs that just didn't quite fit elsewhere, 'Boutique Sound Frames' see PJ's first (and hopefully not last!!) foray as a solo artist.  A self assured collection of tracks that truly rewards those who let their understated melodies grab hold.
The heavy groove and dirty riff of quirky album opener 'Take It Straight', sets an ominous warning for those anticipating PJ to hit them with anthem after anthem in the manner that Trixter are so renowned.  This is not what this album is about, and in all honesty where would the fun be in that? No, this is an album that will sit nicely in my collection amongst the likes of Kip Winger, Nuno Bettencourt, Rich Ward – aka The Duke, Mike Tramp and Ryan Roxie who've all proven themselves as solo artists, far removed from the "comfort" of what they're best known.
With the album written over a period of 10 years, 'You'd Stick Out' immediately transported me back to the early to mid 2000's when that fine blend of modern understated anthemic rock ruled, in fact this is not too dissimilar to fellow bandmate Steve Brown's Stereo Fallout or even the Goo Goo Dolls.  Tempo wise, the album keeps a pretty constant mid pace throughout, but little jolts such as the Cheap Trick power pop tinged 'Ain't No Good' take things up a notch.
In 'Suckerpunch', PJ delivers one of my favourite tracks on the album, mighty infectious in an understated way.  Very similar to the likes of a Lifehouse or Vertical Horizon, who've got that sound nailed.  'The Fallen' sees Trixter alumni Mike Luciano guest on drums, with Steve Brown providing some tasty lead guitar.  'Vow' is another standout track for me, with a slight alt-rock country twang.
Don't you just love discovering a different musical side to someone who's been such a big part of your music upbringing for over 25 years?   Boutique Sound Frames is a perfect statement from a man equally as worthy of your attention as singer, songwriter and multi-instrumentalist, as he is the bass player of Trixter.