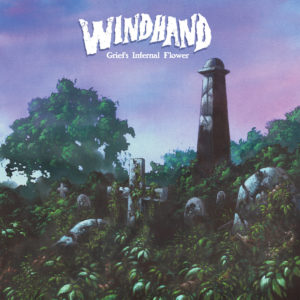 With two underground 'classics' already on their hands and under their collective belts Richmond's Windhand (kings of the unhurried Stoner  Sludge and Heavy Groove) are a band worth looking out for. After early comparisons to bands as diverse as Electric Wizard, The Devil's Blood, and Black Sabbath they seem to have found their own unhurried lead-heavy groove on third long-player 'Grief's Infernal Flower'.
If you crave a thunderous chunk of stoner doom then this is the culmination of Doom and Stoner Metal.
It's not often the press release hits it bang on the head but the album is just nicely summed up by these words near the end of the release: "Front woman Dorthia Cottrell firmly establishes herself as one of the best vocalists of the genre by perfectly balancing beauty with enormous power, and the twin-guitar attack of Garrett Morris and Asechiah Bogdan weaves together nine songs of perfect riffs and fuzzed-out bliss. That often-delicate splendor is all tempered by the colossal rhythmic mastery of bassist Parker Chandler and drummer Ryan Wolfe, whose lower-register expertise serves as the backbone of the new record".
You really do have to hear this.