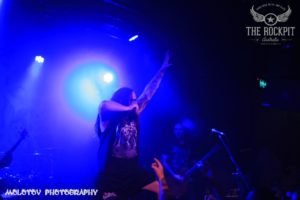 Tonight saw the return of Michigan's favourite death metal sons The Black Dahlia Murder with a bunch of other great heavy hitters including one man death metal act Putrid Pile, Melbourne's Whoretopsy and local openers Unravel. With the absence of US extreme metallers Faceless, the rest stepped up and took advantage of extended sets to pummel the packed Perth crowd on the first show of the Australian tour.
First up were Perth based extremists Unravel and if I'm honest with you I caught the tale end of this set which was a real shame as this band has huge potential. The vibe I got from these guys was an old school grindcore/ death sound chainsaw inducing  guitars and so much more sure to get the early punters going!
As a side note I must mention the late withdrawal of The Faceless from tonight's show for reasons unknown,  to say that there were some disappointed, annoyed  fans amongst the crowd tonight would be an understatement on a grand scale. Maybe next time!?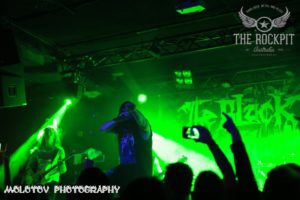 Next to take to the stage was Melbourne's very own Whoretopsy what could I possibly write to convey the sheer brutality of this band. From the word go it was game on, steamrolling the crowd into total submission,  every guitar note on point, every blast beat on point  and every guttural roar was hellish. A lot of bands in today's scene should and could take notes on live performance professionalism and unbridled  power, top marks guys. Next time can't come around  soon enough!
Next up one man band Putrid Pile hit the stage with very little fan fare and just straight down to business. To me it sincerely felt like an earthquake had struck Perth with every shred of this fret board maniac bludgeoning the now packed house and showcasing why Putrid Pile stand among the giants of modern brutal death metal.  I don't know any of the track names nor albums, a minor faux pas on my behalf however if you are feeling the need to utterly pulverize yourself and annoy the next door neighbors to no end then this band will do the job no doubt about it.
Now for the main event, The Black Dahlia Murder take to the stage and prove yet again why they have such a huge loyal fan base. With the album "Nocturnal" turning 10 this year the band ripped into a few tracks from that era, some from the album "Deflorate" a timeless run through of "Funeral Thirst" and from "Unhollowed" –  I could go on and the thing that really struck me not a single note was missed nor any other slip up and it looked like a walk in the park.
Main man Trevor Strnad looked like he was conducting a symphony in hell leap around and looking every bit in control after a blistering set and I'm sure many sore necks later, it was all over. From me I'm signing off very sore but grinning from ear to ear!
PHOTO GALLERY
Photos by Tammie Molotov – Molotov Enterprises & Photography