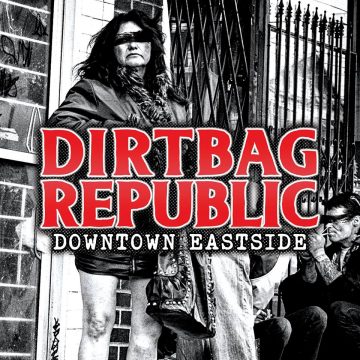 Dirtbag Republic's self-titled debut album was one of my favourite releases of 2015 and if you were to ask me again today I could honestly say it's one of only two albums from that year that still gets a regular play. So after 18 months of eager anticipation album number two is finally here, and this time along with drummer/singer Sandy Hazard and guitarist Mick Wood we've added Andrew Cairns on rhythm guitar and Kyle Richardson on bass.
Now let's set the scene here so there's no recriminations – Hanoi Rocks has to be one of my all time favourite bands, but up there with the you can add The Faces, The Stones, Aerosmith, New York Dolls and pretty much any purveyor of blues-seeped sleazy hard rock from The Dog's D'Amour to The Sea Hags. This album sound sfrom start to finish like it was created just for me – ten tracks, nine rockers and all solid gold. I've already heard a lot of good albums this year, a few very good, but this is the business.
From the glorious New York Dolls swing of opener 'Junkie Girl' this is solid gold and it just doesn't let up. There's a more Hanoi Rocks /Mike Monroe 'Punky' thrust to 'Homeless'; great gang vocals and rock and roll feel-good swagger to 'My Part of Town' and we're back with Hanoi-style rock and roll for 'Fantasy World' – it's an opening salvo worthy of a real classic.
One thing that really impresses me on album number two is how far Sandy's vocals have come on – they sound more relaxed, more natural and his phrasing is spot on, if an instrument can sound vintage these vocals are from another time and place.
The other thing that really impresses is how more expensive the guitar sound is – and the fact that we get nine rockers may have something to do with it, but on tracks like the 'Stonesy' 'Swing and Miss' and the "Aerosmith through a Sea Hags haze"sounds of 'See You in the Morning' you get a real edge and cut to the guitar and the more you listen the more your hear rather like Andy McCoy or Johnny Thunders.
The quality is stamped through this, and like I said it doesn't let up for a minute – 'Thinking of You' has you taking a Gunners via Stones hit of sleazy perfection and the punkier 'Don't Shot your Mouth off' works so well up against the  catchy as hell 'Free Falling' and slightly darker but equally addictive closer 'Crawling Back to Me'.
This is an album full of great songs, a cool as hell sleazy sound and one that if I could hold a tune I would be wailing from the rooftops! I secretly never thought that Dirtbag Republic could better that debut release, I had money on it going down as one of those great classic debut albums that somehow never get outshone. I was wrong. Now book me tht ticket to Vancouver – I need to see this band live!